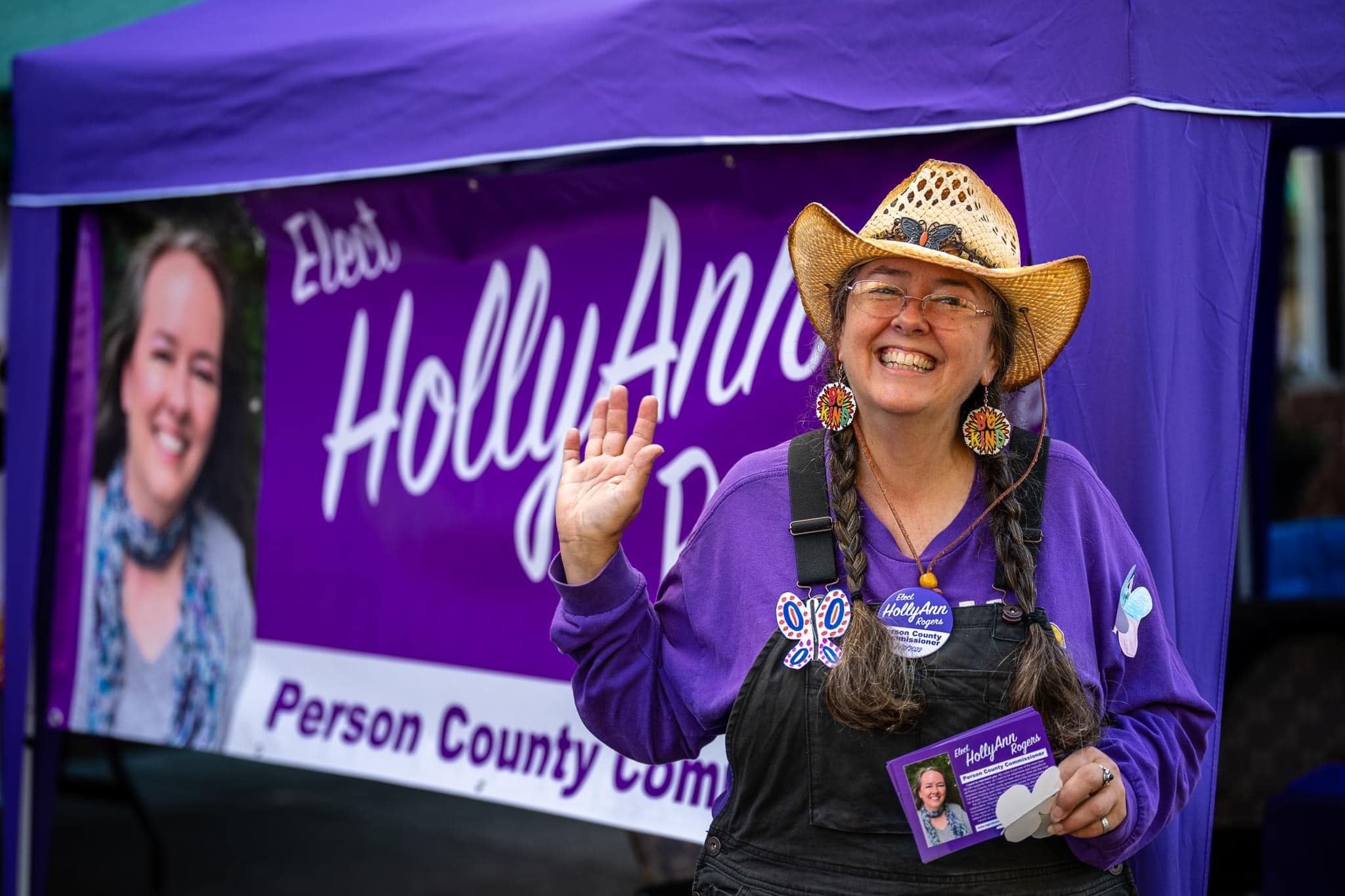 Above: HollyAnn Rogers campaigning. Photo by Steve Long, a local Person County photographer
Facebook
Twitter
LinkedIn
HollyAnn Nye Rogers is wearing her signature color: A purple sweater and purple tennis shoes. We met up with her at Sweet Tooth Bakery in Roxboro , North Carolina where the apple fritter comes highly recommended.
This fall, HollyAnn ran for Person County Commission– her first ever foray into local politics. "It was utterly exhausting," she says, laughing, "But oh-so-good." She took a quick break after the election to take her elderly mother to the mountains, but now is back and ready to reflect and plan.
HollyAnn did not win a seat on the County Commission (which remains controlled by white men), but did earn over 20% of the four way race for two seats. Building power in Person County is a long term project and HollyAnn stresses how important keeping that long view is important here. It's significant that Person County bucked the trend of decreased voter turnout statewide (53% in 2018 to 51% this year) and locally saw an increase from 55% in 2018 to 56.3% this year. Trends like that bode well for working people.
HollyAnn was one of nine Down Home members who ran for office in 2022. We sat down with HollyAnn over coffee and doughnuts and asked her what advice she would give other Down Home members thinking of running for office in their hometowns.
Here is what she shared with us:
When a voter is willing to talk to you, shut up and listen. People who feel listened to feel valued.
"People know a lot about their own lives and what they need. Ask a lot of questions," she said.  "And not only will you learn from them, but they will remember that you took the time."
Educate yourself beyond the soundbites. 
HollyAnn says that as a candidate you don't actually have to know everything– that's not what its about. "Never be afraid to say, "I'm sorry. I don't know much about that subject. How about you educate me?"" she says. "It's OK not to know everything. It's not OK to bullshit your way through a conversation with a voter. They're going to see through that."
HollyAnn shared a story about a voter asking about her position on cash bail. When HollyAnn answered, the voter disagreed with her and explained her opinion. HollyAnn and the voter didn't come to agreement, but HollyAnn did win her vote because she took the time to hear from the voter and committed to doing more research on any subject she didn't know that much about.
Make every word on your yard signs or billboards readable at 55 miles an hour. 
When you are campaigning in rural North Carolina, you are going to have to put your signs at a lot of crossroads and off a lot of state highways. "This is not the place for small text!" explains HollyAnn, who put out 500 yard signs, marking the location of each one on a map so she could collect them later.
HollyAnn's yard signs were purple– her signature color– with white script. "Very simple and very recognizable," she explained. And it's true: They were EVERYWHERE in Person County.
Send handwritten thank you notes to every donor, whether it is money or in kind support.
HollyAnn gets that kindness and hospitality create relationships and relationships win elections. People will notice the time and care you took to write to them, she explains, and that will serve you well on election day.
Keep a first aid kit in your car. These damn sign sticks are sharp!
HollyAnn puts down her hot chocolate mug to show us her hands– they are torn up from those 500 yard signs! Maybe Down Home will have to get her some thick gloves before her next campaign 🙂