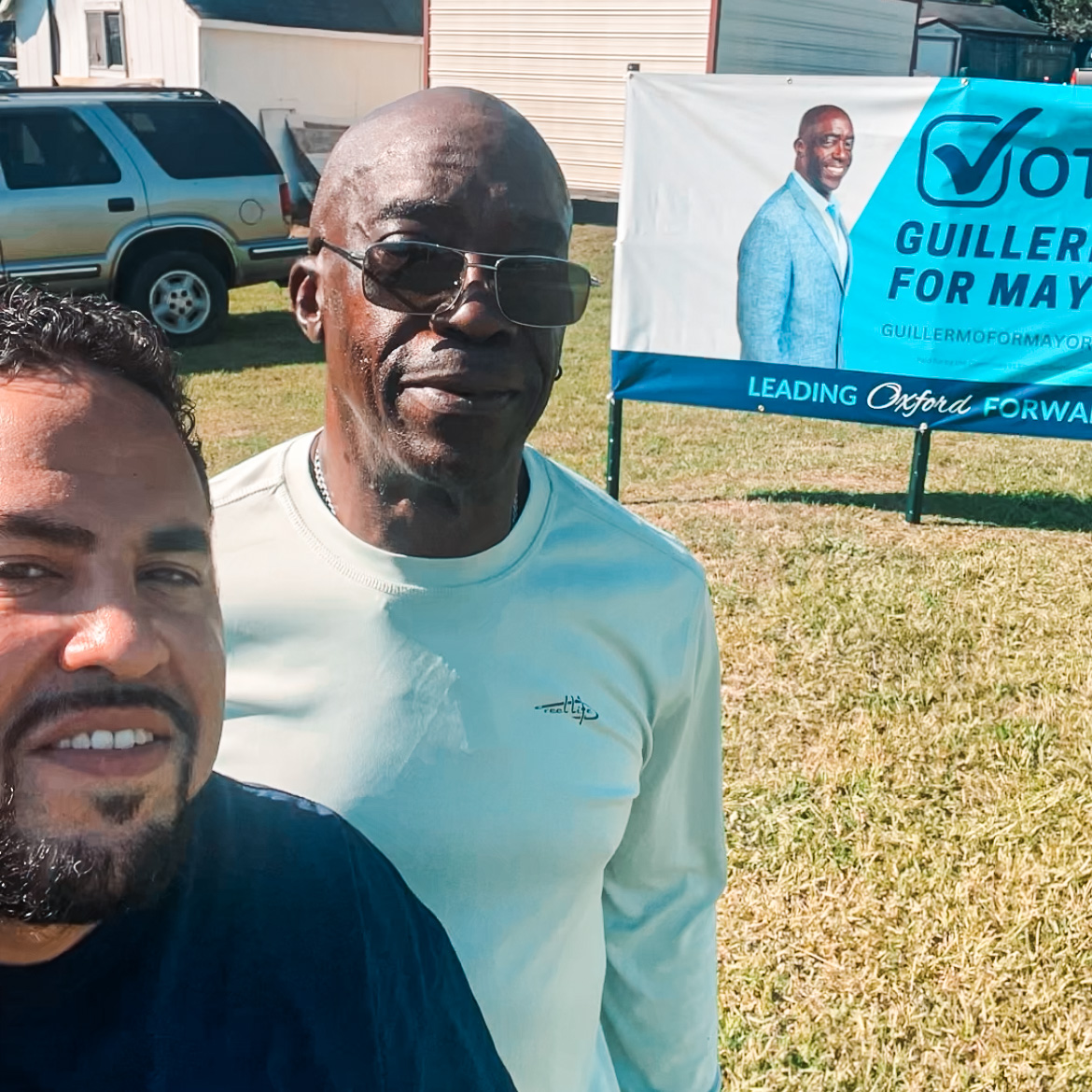 Down Home members have proven that organizing works in Granville County! Last year, members helped elect Robert Fountain for Sheriff and Mary Wills Bode to State Senate. This year, members won a huge political victory when they got the city of Oxford to fund the renovation of Granville Street Park. But Granville is also a true political battlefield, with redistricting threatening progress. For the municipal elections, members chose to focus attention and energy on Oxford by endorsing candidates there who would work to build multicultural working class power.
With the costs of housing rising, Oxford is changing quickly as people move in from Durham and around the Triangle. Oxford needs better infrastructure to address growing needs for affordable housing, public transportation, roads, schools, and recreation.
As the population grows and investment focuses on high income opportunities, the charming small city of Oxford is in danger of catering to new citizens and forgetting the old. Our members want elected officials who will make life better for everyone here, not just newcomers.
That's why members have been knocking doors, canvassing, and educating voters to spread the word about three candidates:
Guillermo Nurse for Oxford Mayor
Stuart Powell for Oxford Town Commissioner
Curtis McRae for Oxford Town Commissioner
As the victories of 2022 showed, voters in Oxford want a multicultural government that is responsive to the needs of working people. In 2023, these candidates will continue that progress and create opportunities for everyone in Oxford to thrive and build better lives for their families.
Guillermo Nurse for Oxford Mayor
Guillermo Nurse brings a fresh perspective to Oxford. "He has a vision to bring all walks of life together in Oxford and knows his background as an Afro-Latino man can guide a new kind of racial unity in our County," said one member.
Nurse is from the Canal Zone in Panama and is retired from the Navy. He coached basketball and became an entrepreneur in Puerto Rico, and his time there gave him a deep understanding of business and also the role sports can play in building communities.
A member of Down Home, Guillermo was an important part of the chapter's Granville Street Blacktop Project and has supported our Down Home chapter since its launch last year.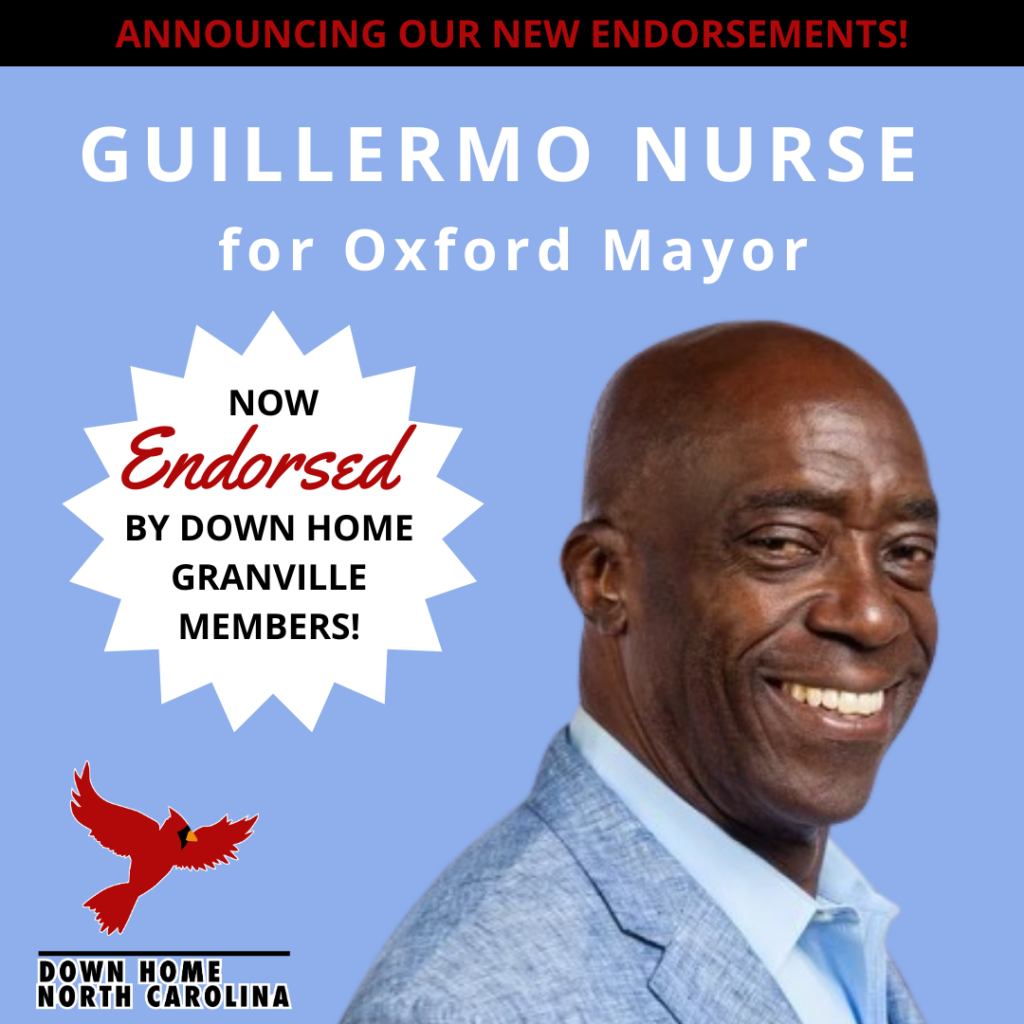 "He's seen firsthand how bringing sports to people can change lives," said one member. Sports help create teamwork and provide great recreational resources for young people, he says. One of the reasons the Granville Street Blacktop Project is so important is because it will help mold and prepare young people for better futures. Guillermo wants more transparency in government and better ways for regular people to participate. He's a strong advocate for participatory budgeting. Down Home members appreciate his dedication to co-governance and look forward to working with him after he is elected.
Guillermo serves on Oxford's Planning Board, helping to guide responsible development in the city. Members endorse Guillermo because he's dedicated to sustainability and a higher quality of life for all.
Stuart Powell for Oxford Town Commissioner
Members endorsed Stuart Powell because of his vision of Oxford as a place where people can successfully live, work, and play without having to go elsewhere to find fulfillment. Powell wants better opportunities so people can stay in Oxford and thrive with their families here. "Everyone should be happy doing all three in Oxford," says a member.
Members endorsed Stuart because he's a unique combination of homegrown talent, innovative thinking, and world class experience. He's an entrepreneur who grew up in Oxford and went to Webb High School, but also developed in Washington DC at a policy advisory firm started by Ted Kennedy Jr. Members connect with his dedication to climate action and community organizing.
Stu is focussed on increasing public recreation and quality of life. He wants more public parks and recreation facilities and to make Oxford more walkable, bikeable, and transit-friendly.
At the same time, he sees the need for more healthcare access and Oxford. He has worked in Washington D.C. on Medicaid Expansion and members endorse his focus on the underserved.
He's been involved with many community organizations in Oxford like Treasures of Joy, Hope House, and Orange Street Community Center.
It's Stuart Powell's dedication to unifying Oxford and creating better lives for everyone that led members to proudly endorse him for Oxford Town Commissioner.
Curtis McRae for Oxford Town Commissioner
Curtis McRae is a true man of the community. He grew up in Granville County, raised by a preacher, and graduated from Webb High School, Vance-Granville Community College, and North Carolina Central University. He's dedicated to family and has spent his 30+ year career working with law enforcement and corrections agencies to improve public safety. He serves as a church deacon and coaches children's sports.
Down Home members appreciate Curtis's character, but they also endorsed him for his dedication to protecting working people and building infrastructure to thrive. If Oxford only invests in public improvements for wealthy and new areas, then multicultural working class neighborhoods will be left behind in a new kind of segregation. Curtis McRae wants investment across different areas of the city.
McRae's push for better transportation in the county and region would help working people commute and play. Elderly and young people have acute needs that would be served by expanding public transit and McRae advocates for serving people untouched by city transit so far.
His deep passion for improving recreational opportunities means healthier families and more successful kids as they get older, develop community and employment ties, and are confronted with leaving or staying in Oxford. "We need affordable housing, not just housing for rich people coming in," said one member. McRae says he is dedicated to the future success, opportunity, and safety for all, which is why our members are proud to endorse him for Town Commissioner.