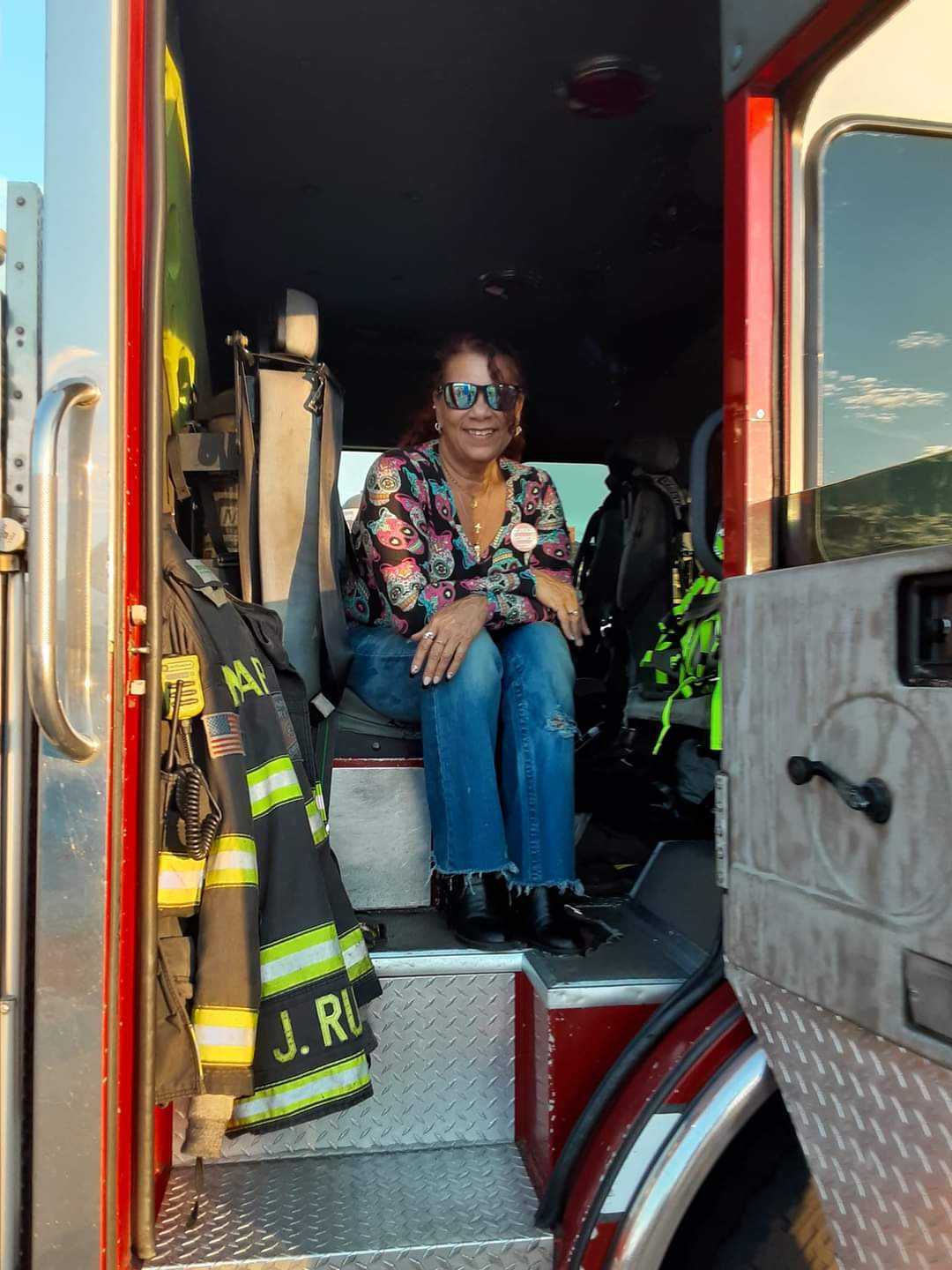 Down Home members in Cabarrus County have endorsed political candidates who they believe will work for change from the bottom up. They're tired of the good ol' boy system of politics as embodied by the way the County Commission has skirted their policies by appointing board members that are either unqualified or stay much, much longer than the rules allow. That's why members are canvassing and working for the election of:
Jayne Williams for Kannapolis City Council
Ryan Dayvault for Kannapolis City Council
Jack Lambert for Concord City Council
Andy Langford for Concord City Council
Members went through a long process before endorsing these candidates, doing research, interviewing candidates, and talking with the community. Cabarrus is a fast-growing county, with community members worried about housing, education, and healthcare. There has been a lot of deferred maintenance in our schools and members endorsed candidates who will prioritize the safety of our children and finally repair what needs to be repaired. Our members want elected officials who will work to build multiracial working class power across Cabarrus County. These four candidates will make sure that local government works for all of us.
Jayne Williams for Kannapolis City Council
Cabarrus members endorsed one of their own when they got behind Jayne. She's a very active member of the chapter and was a leader in the successful campaign for emergency rental assistance in Cabarrus County. Members endorsed her because of her genuine experience, her true advocacy for community betterment and working class issues, and her ability to fight for what's right for the people.
As the daughter of boxer Rubin "Hurricane" Carter, fighting is in Jayne's DNA. Members appreciate her experience and vision that sees both the problems in Kannapolis but also the solutions.
Members point to Jayne's relevant lived experience as a key to her endorsement. She would bring a much-need perspective to the city council because she knows what working people face every day when they have to provide housing, education, and healthcare for their families. Jayne is a single mother and a retired hospice worker. She knows the struggle of facing eviction and worrying about providing a roof over her head due to circumstances.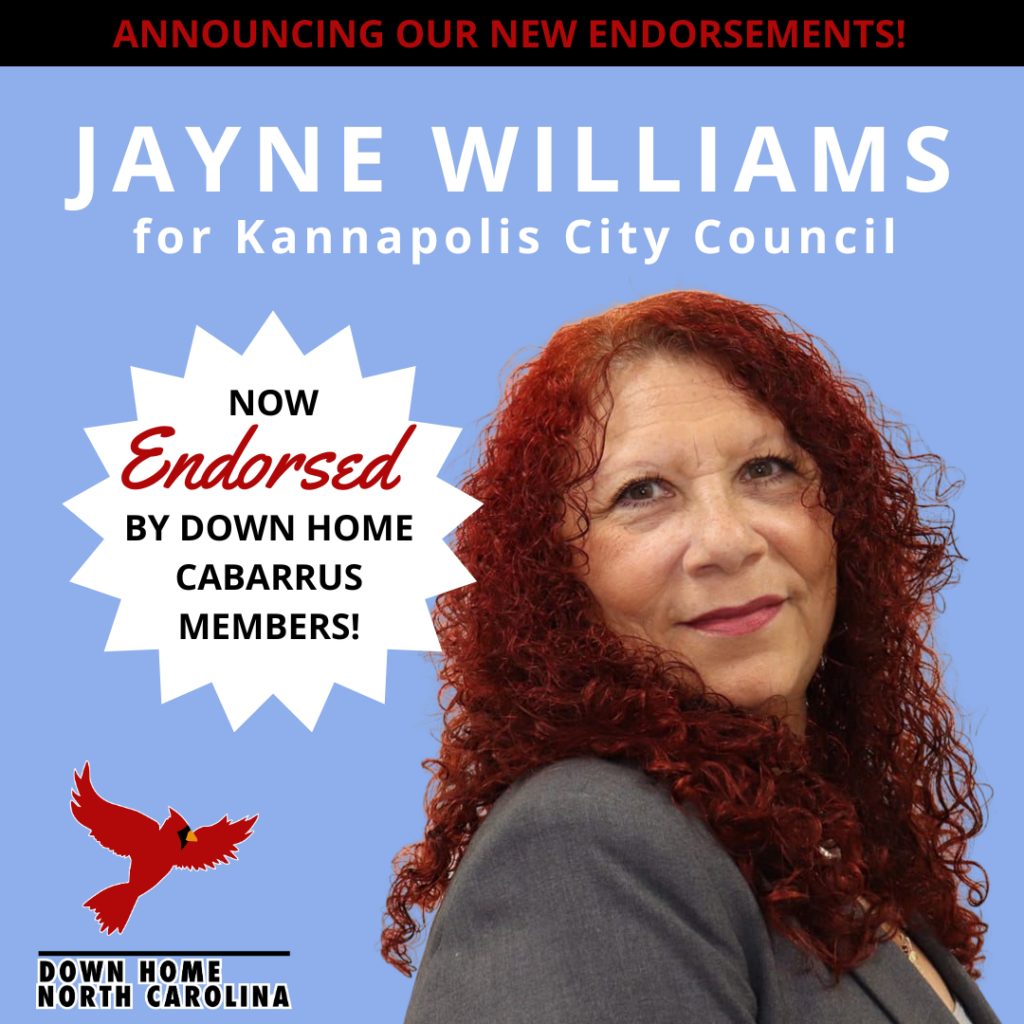 Jayne's priorities and the most pressing issues in Cabarrus are shared by many of our members: the cost of rent and affordable housing, the need for afterschool programming and opportunities for youth, and transition programs for those struggling with housing.
"One big obstacle to change is that people don't believe their voice and vote doesn't matter," she says. "We need to help them to get connected by volunteering or getting involved in the community."
Her mother's hometown is Kannapolis, and Jayne is extremely active in the community. She's worked with Meals on Wheels, Inspire, Keep Kannapolis Clean, Black Political Caucus, NAACP, and volunteered at Hospice Camp. Because of her experiences across Kannapolis, Jayne's campaign was endorsed because she wants to work for ALL people in the city, not just those downtown.
"We need to push city council to meet the needs of the people and hold the representatives accountable," she says.
Ryan Dayvault for Kannapolis City Council
Our members endorsed Ryan Dayvault for his responsiveness and availability to his constituency, his firm ties to Kannapolis and its working class roots, and his dedication to improving the lives of working people.
Kannapolis has experienced significant economic and financial concerns since the closing of the mill, he told members. His father worked for the mill and he expected to work there too – until it closed down. So Ryan has seen firsthand how the health of business relates to the health of families and communities. Members appreciate him as a voice of reason in a time of great change.
Ryan wants to reuse and upgrade city properties and improve sustainability. This long-term focus on an economy that works for everyone in the county is important to Down Home and the members who endorsed him. We can't abandon people and neighborhoods in favor of just chasing new development and growth. A thriving Kannapolis depends on everyone being served by the city council and helped to thrive.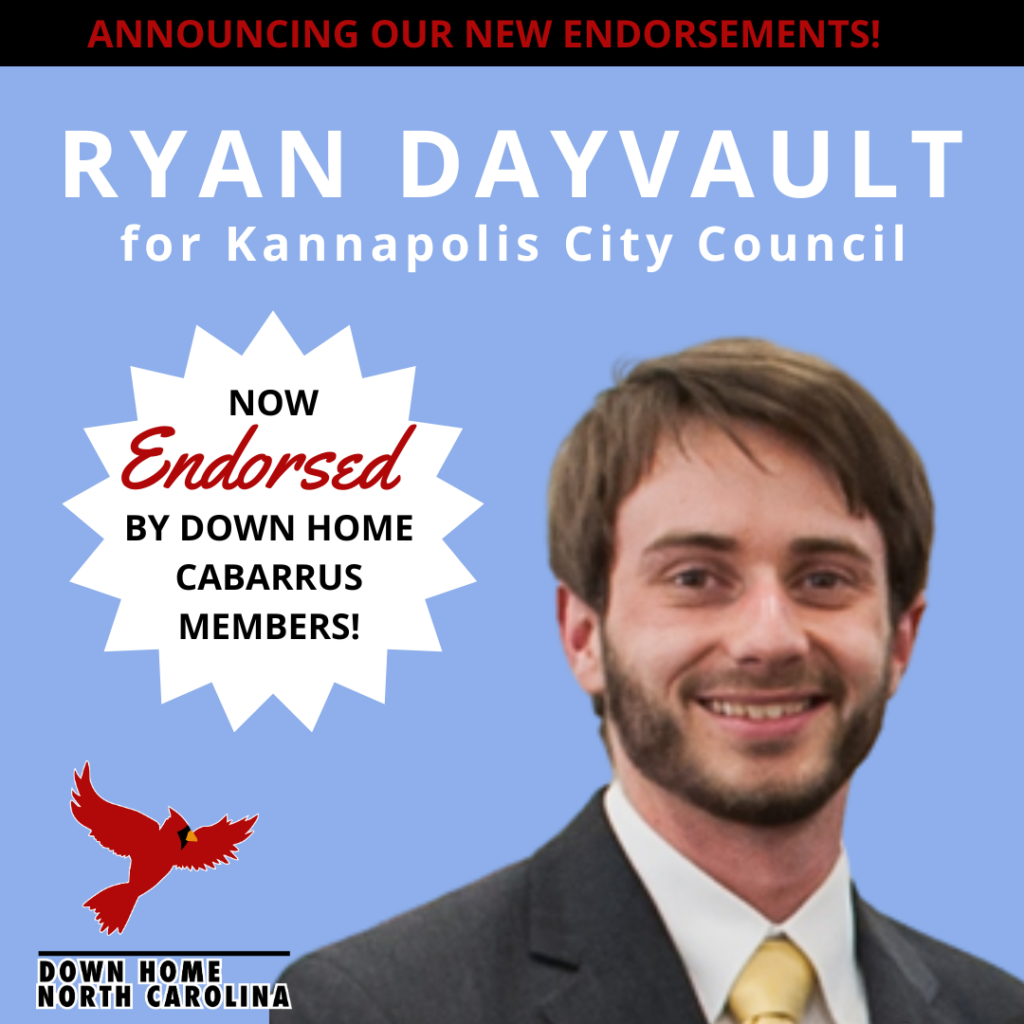 Ryan has been on Kannapolis City Council for 12 years and is the Chair of the Cabarrus-Rowan Metropolitan Planning Organization. He brings tremendous experience but also a spirit of service to his work. He has served on the boards of the Kannapolis Education Foundation, Kannapolis Booster Club, Kannapolis Friends of the Library, American Red Cross Cabarrus County, United Way of Central Carolinas, Kiwanis Club of Kannapolis-President, Cabarrus Arts Council, Catawba College Alumni Association, and more.
A native of Kannapolis, Dayvault's family history goes many generations here. He graduated from A.L. Brown High School and Catawba College.
Jack Lambert for Concord City Council
Members endorsed Jack Lambert for Concord City Council because of his dedication to moving beyond partisanship, his advocacy for common-sense and incremental change, and his dedication to representing EVERYONE in Concord.
Jack is a lifelong resident of Cabarrus County. He grew up in Midland and is a CCHS graduate. His family business has given him an appreciation for his range of experiences and being a small business owner.
He has served with Cabarrus County Crime Stoppers, the Historical Association and the CCM-Mill Project, the Full Circle Rotary Club, and has worked with veterans' housing issues. 
Member appreciated his dedication to being available to constituents and the opportunities for co-governance if elected. He sees the problem of absent politicians who disappear after elections, and is dedicated to being available, especially when it comes to working people. He wants to move beyond the hyper-partisanship that keeps people in fear and politics unproductive.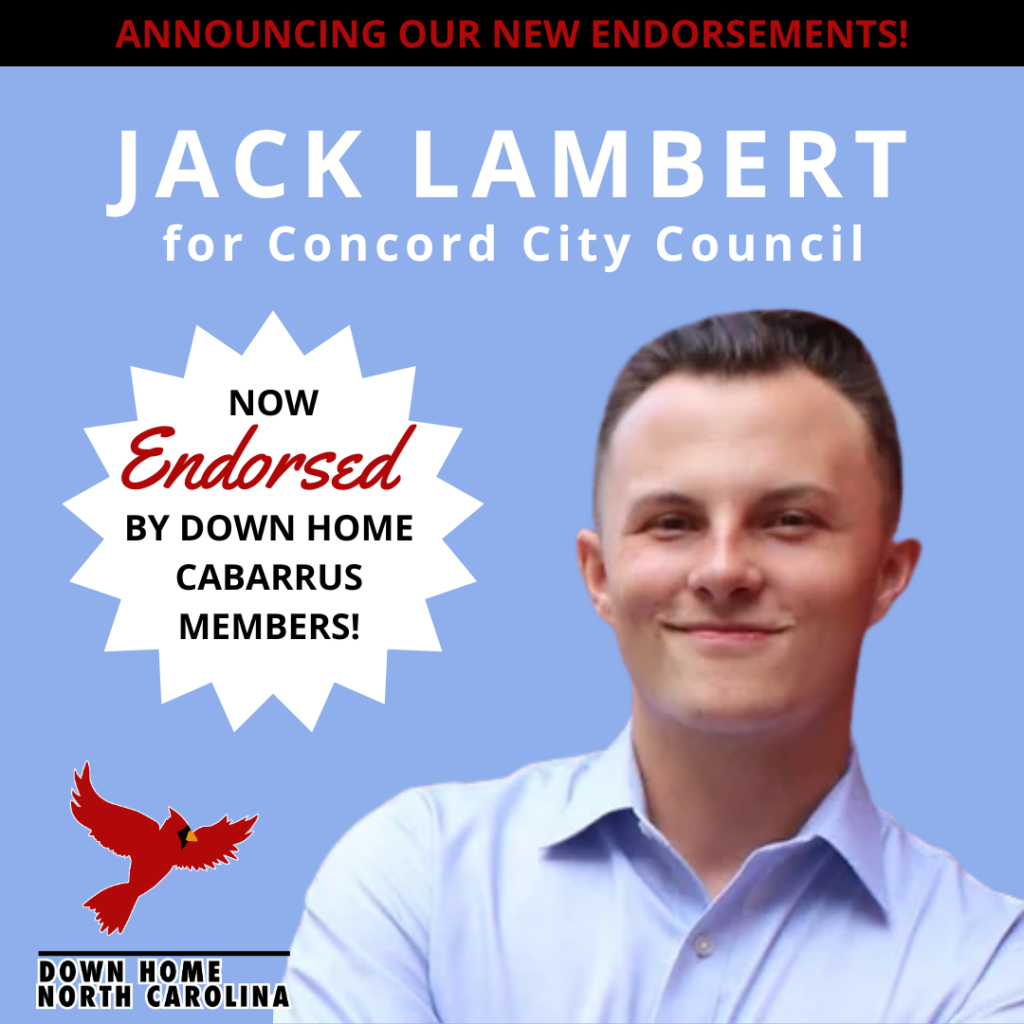 "I will be bi-partisan and be with 75% of voters – somewhere in the middle," he says. "As an elected official, I will represent everyone."
Andy Langford for Concord City Council
Members endorsed Andy Langford for Concord City Council because of his interest and experience in getting different perspectives, his dedication to the community, and his history of actually showing up when it matters.
Andy Langford has served his community as a teacher and a pastor. Members appreciate his being called to serve Concord after retiring and his genuine dedication to building Concord together. His approach is one of partnership and listening, and he appreciates that for government to work for everyone, everyone must have a say in how it works.
Andy's dedication to transparency and inclusion will develop working class, multiracial power. Members were impressed by his history of listening to others and organizing ways to hear from underserved communities and include everyone in the process of progress.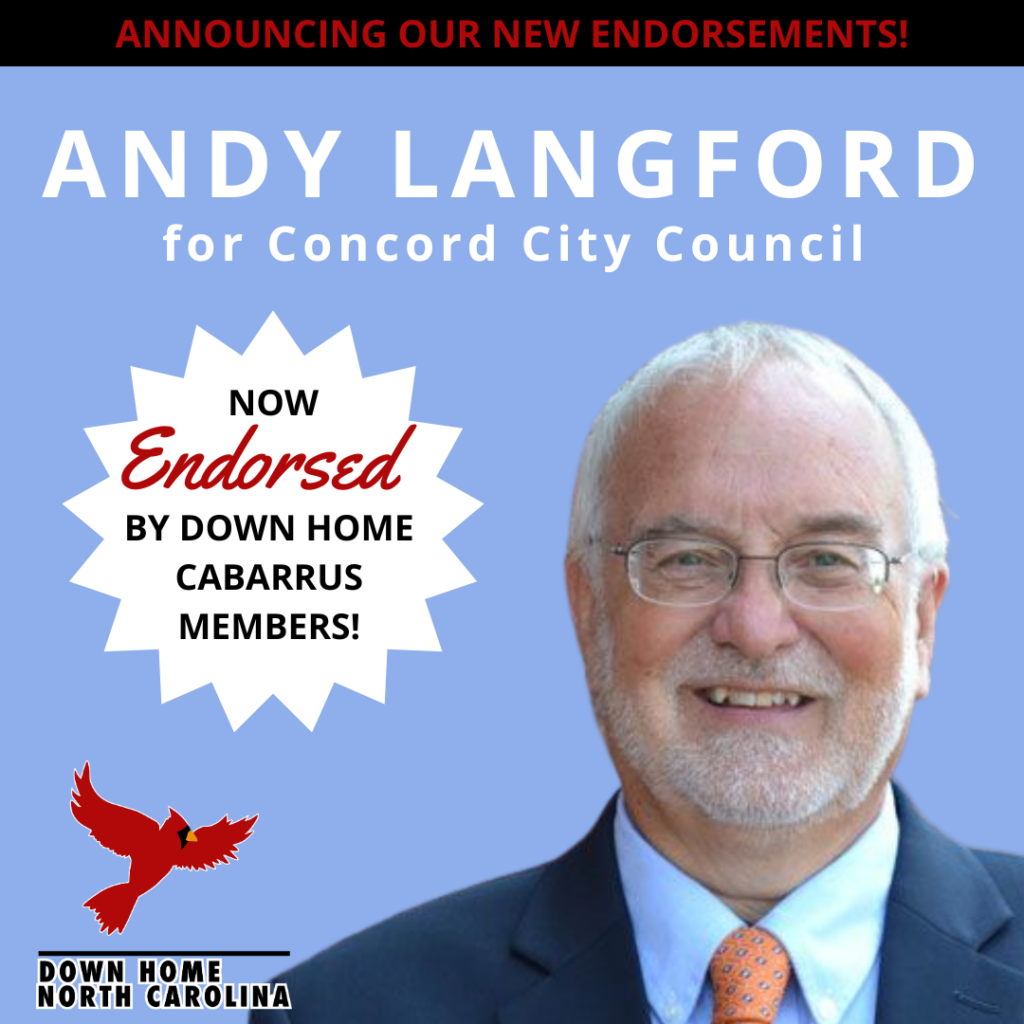 Members heard his recognition of the discrepancy between the population of our elected representatives as an important step towards cogovernment.