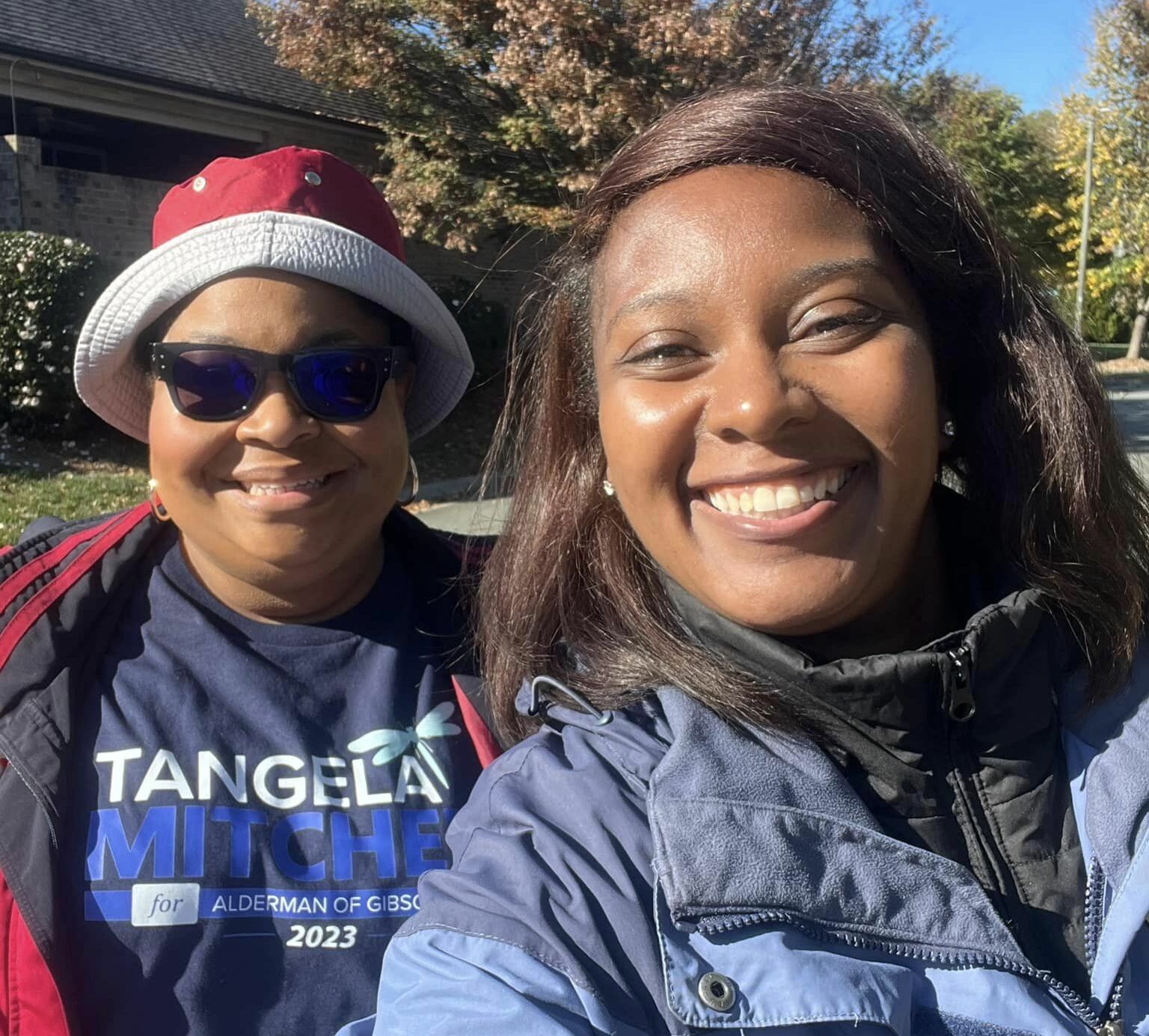 When our Alamance County members looked at candidates in the 2023 municipal elections, a handful of issues stood out: housing, jobs, the environment, community health, and education.
This fast-growing county has seen lots of housing development, but rents and mortgages are going through the roof. "Developers are coming in and getting tax breaks, but the working people aren't getting a tax break," said one member. "New companies come in and bring jobs, but they aren't going to locals. We need hiring policies that benefit the people of Alamance."
This summer, a week before school was to start, parents received alarming calls alerting them about a toxic mold problem throughout the school system and that schools wouldn't start on time. Not only was it a last-minute scheduling shock to working families, who don't have backup care options, but it also revealed deeper issues with health hazards facing children and adults. Elected officials have delayed necessary repairs and upgrades for years, and now there is a sense among working parents that our children are the ones who have to be subjected to sick environments because of the underfunding and bad decisions of certain elected officials.
Long-defunct factories have left pollution in the soil and water. Companies come in, use our resources and people, and then leave the poor and working class a legacy of environmental pollution. "Politicians run on it as an issue, get elected, and then do nothing," said one member. "We need new people in office who understand this is our drinking water and the environment our kids grow up in. The time is now to do something about it."
That's why Alamance members endorsed four candidates with proven records of working with the community and doing things to benefit poor and working class folks in Alamance. Members went through a long process before endorsing these candidates, doing research, interviewing candidates, and talking with the community. "We need real conversations about getting people into good houses and good paying jobs," said one member. "Only working class candidates really know what this means for our families." That's why Alamance members are proud to endorse:
Beth Kennett for Burlington Mayor
Dejuana Bigelow for Burlington City Council
Quinn Ray for Elon Town Council
Tangela Mitchell for Gibsonville Board of Aldermen
For a long time, rich and powerful people in Alamance have divided poor and working people in order to keep us out of power. They've used race and dog-whistle politics to make us think there are two Alamances. But our members are working to elect these candidates, all of whom believe in working together to build multiracial power and make our lives and communities better.
Beth Kennett for Burlington Mayor
Beth Kennett is a Down Home member – but that's not why Down Home members endorsed her. Members are impressed by her vision for a Burlington that will work for everyone, her track record of compassion and inclusion, and her dedication to better communities for our families.
"She's not a politician," said one member, "and she brings a fresh perspective that Alamance needs."
Beth is one of the most well-respected leaders in Alamance County. She's very well known throughout the county as a leader of faith communities and nonprofit organizations. "Beth always shows up," says one member. Beth Kennett is dedicated to serving the people of Burlington every day in ways big and small, and members know she will be available to her constituents regardless of whether they voted for her or not.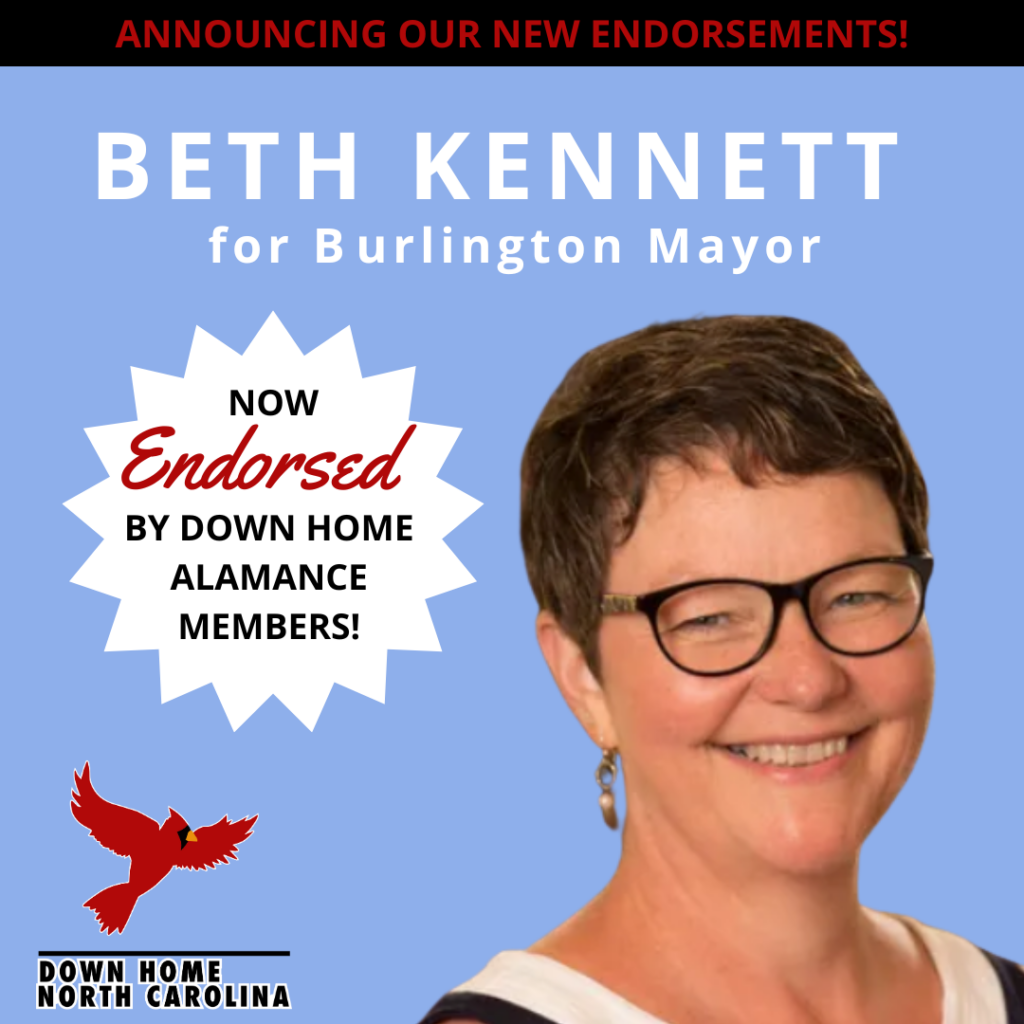 Her experience as a minister and counselor led her to sit with conflict and find resolutions and ways forward even when it seems impossible. Raising a family in Burlington, she knows the need for affordable housing, livable communities, and keeping neighborhoods safe. That's why Alamance members are proud to endorse Beth Kennett for Mayor of Burlington.
Dejuana Bigelow for Burlington City Council
Members endorsed Dejuana Bigelor for her focus on neighborhood safety, her history of solving problems across differences, and her dedication to holding polluters accountable.
Dejuana has worked for years to make our communities better. She grew up in Burlington in the Rauhut Street area, graduating from Cummings High School before going to college and then starting her own business in downtown Burlington. Now she is raising a family in Burlington.
She's a working mom with a very deep history of healing divisions. She's someone our members trust to advocate for doing the right thing by working people. She has worked with families devastated by violence in the Morrowtown area, but she is also a part of the Citizens Police Advisory Team – so she can bridge the police and the communities they serve. She is interested in finding real solutions to public safety issues.
Dejuana wants to make corporate polluters (and not the taxpayers) pay to clean up all the chemicals in Burlington that are getting into our drinking water.
For these reasons, members endorse Dejuana Bigelow, a fierce advocate who will bring a common sense voice and represent working people on Burlington City Council.
Quinn Ray for Elon Town Council
Alamance members applauded Quinn Ray's track record on Elon Town Council. We enthusiastically endorse him for his dedication to innovating new solutions in Elon, sustainable growth, and a higher quality of life for all.
Quinn Ray has deep connections to Alamance County. Quinn is from East Burlington and went to Eastern Alamance High School in Mebane before attending the University of North Carolina at Greensboro. He knows Alamance and understands what's needed for families to grow and thrive here.
As a small business owner, he understands what's needed to thrive economically. As a town councilor, Quinn has brought attention and funding to infrastructure needs that form the foundation for families, businesses, and the government to thrive in Alamance.
Quinn Ray has an extremely strong record for reelection: he added public transportation in Elon, formed a nonprofit for downtown development, established 8 weeks of paid family leave for town employees, established Juneteenth as a paid town holiday, and more.
Quinn's vision for a better life for everyone in Elon and Alamance inspires Down Home members, which is why we are proud to endorse him for Elon Town Council.
Tangela Mitchell for Gibsonville Board of Aldermen
Alamance members endorse Tangela Mitchell because she's focused on things working folks in Gibsonville care about: embracing diversity, fostering a higher quality of life, and supporting opportunities for all.
Tangela is an experienced realtor who sees development from different perspectives. She's committed to more affordable housing in Gibsonville and has the insider knowledge of how neighborhoods in Alamance are being affected by big capital coming from outside the town, outside the county, outside the state, and even outside the country. She knows how to keep neighborhoods accessible and affordable and sees opportunities other people can't.
"She's not a politician and so she brings a newcomer's eye," said one member about her. Tangela would bring more Black representation to the board, and her youth would be an asset in this fast-growing town.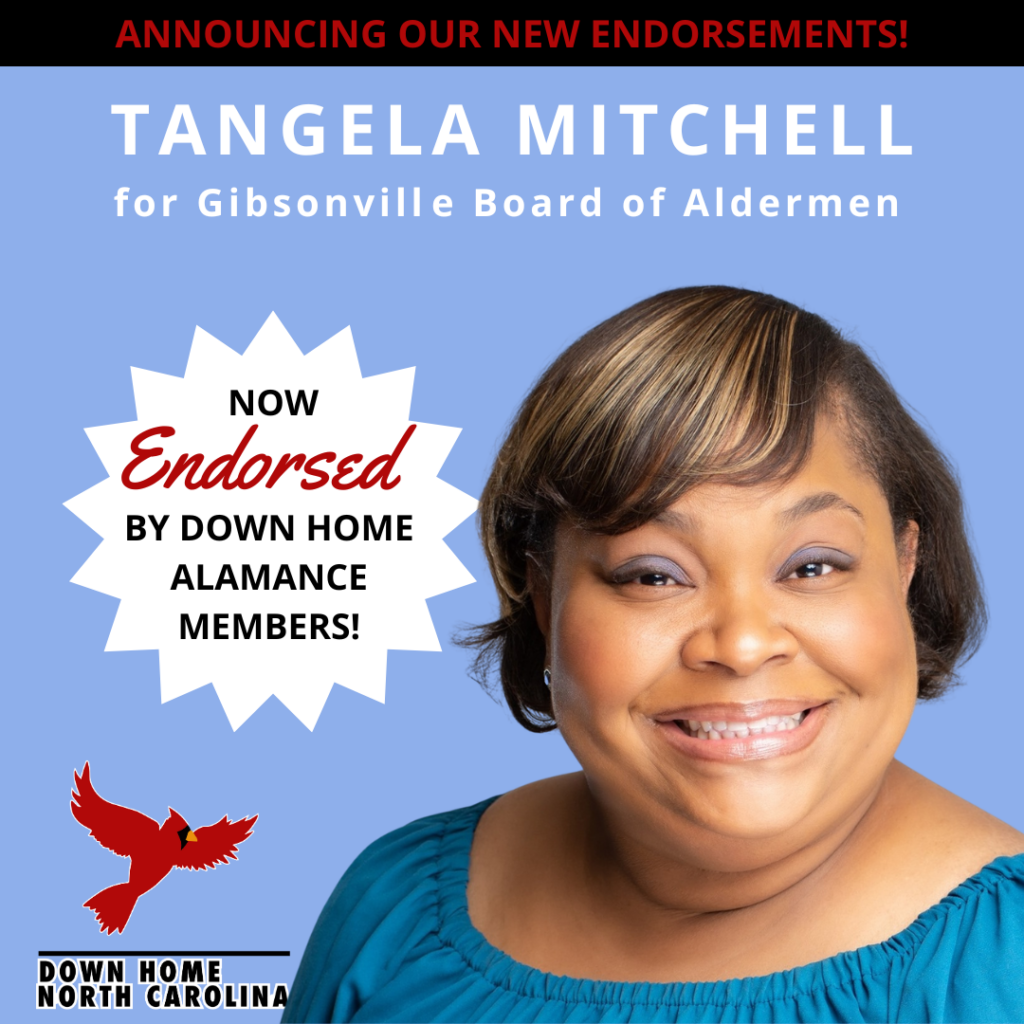 Members appreciate that she wants to expand down payment assistance for home ownership and develop downtown to increase quality of life. When she talked about increasing walkability and park space, those are programs that will help working people thrive – which is why we are proud to endorse Tangela Mitchell for the Gibsonville Board of Aldermen.