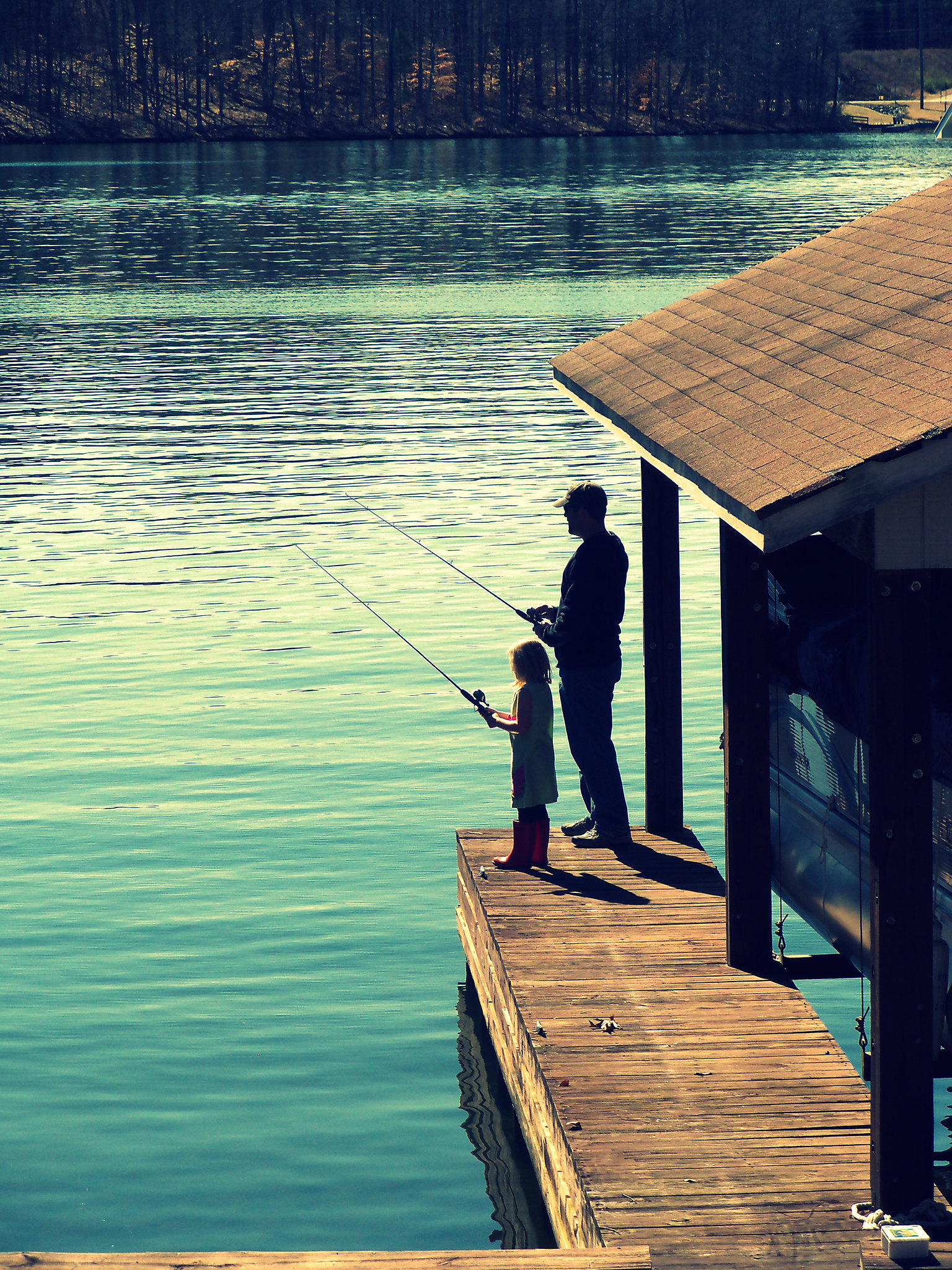 Photo: A father and daughter fishing at Hyco Lake in Person County, N.C., by A Longerbeam.
The big news out of Person County this election: Ray Jeffers.
"Congratulations to Ray Jeffers on his HD2 win!" says Down Home's Field Organizer April, who grew up with Ray.
A son of Person County, a former farmer, the youngest commissioner elected in North Carolina, and a deep rural advocate, Jeffers won NC House District 2 in a big way and helped prevent the Republican supermajority that threatened reproductive rights, voting rights, and LGBTQ rights.
The caveat on his victory? Most of his votes came from next door, where urban Durham county tilted the seat in Jeffers' favor. But Jeffers, a beloved local figure in Person, now heads to Raleigh.
And in very rural Person County, where there is still a very deep and historical racial divide, our chapter's other endorsed candidates were roundly defeated. But it's the beginning of claiming space for working people who have been ignored and pushed aside for too long.
"Person County has to do better with just over 56% of registered voters voting," says our Field Organizer April Short. "People need to exercise their right and vote!"
Fighting hard for every vote in Person County
Voting was up in Person County in 2022 versus that last midterm in 2018, which bucks the statewide trend. The county leans very Republican and is about 64% white and 25% Black, with a 6% Hispanic population. The county has 27,796 registered voters and 15,658 cast a ballot this year.
We knocked on 8,760 doors in Person County and had 2,399 conversations. In a place as rural as Person County, that means a lot of walking and lots of time just to get from house to house!
"My canvassers and myself knocked plenty of doors and introduced people to local candidates and their platform," says April.
Our Person chapter endorsed Cheri Beasley for U.S. Senate, and she earned 38% of the vote there versus 47% statewide.
Ray Jeffers won 40% of Person County's vote for NC House 2 (and 65% of Durham's vote).
HollyAnn Rogers, our members' choice for the two-person Board of Commissioners, received 20% of the vote and third place.
Keith Daye, our endorsed sheriff candidate, received 35% of the vote.
"I would also like to mention that Keith Daye and HollyAnn Rogers fought hard and I hope they keep fighting and trying to make the community better," says April. "The local election didn't have all the outcomes I hoped for but I am grateful to have Ray in his seat."
Focusing on the youth in Person County
Ray Jeffers' victory was huge for our Person County Chapter, and Keith Daye and HollyAnn Rogers' campaigns were efforts to build on. We're just getting started building multiracial, working class power in Person County.
April sees a lot of opportunity in her home county and is looking forward to growing community engagement in 2023.
"I think the community will be focusing on the youth a lot," she says. "Trying to be proactive instead of reactive and finding things for them to do and build awareness."
She says there are no public community centers or a YMCA in Person, and the children need activities to keep them off the streets and the opportunity to grow and become productive citizens.
That starts with building people power that can mobilize politically to achieve local goals.
"People need to understand why they should vote and how their vote counts," April says. "Only voting in the presidential elections is like voting for a mascot and a lot of the change we need is down ballot and right here."
READ NEXT: How Rural North Carolina Just Prevented a Supermajority and Saved the Governor's Veto