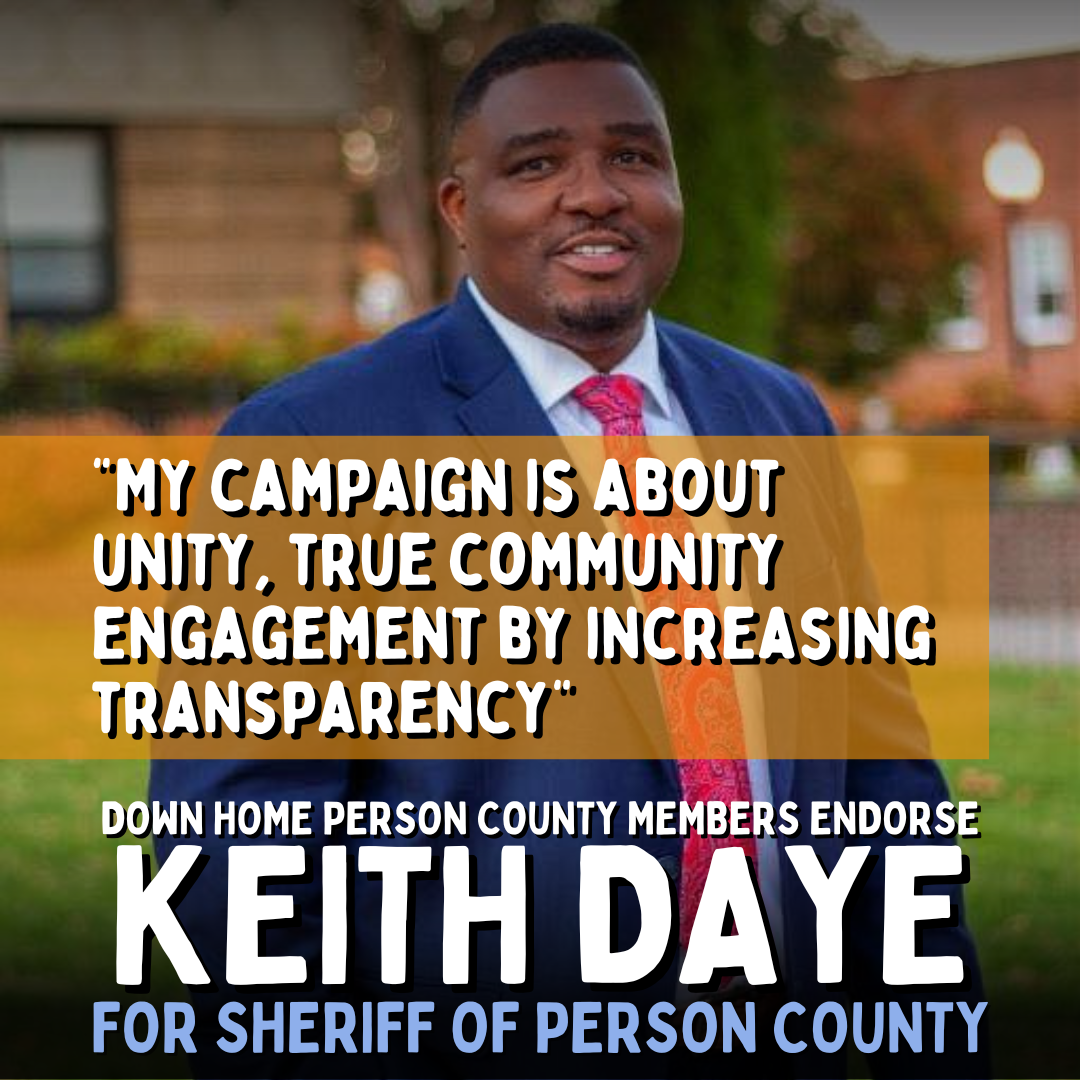 By Rosa Mariposa
Keith Day is a different kind of leader. Twenty-eight years ago, Keith Daye and his wife, Pamela Winstead Daye, opened up their home and hearts to help foster children heal. Keith was already working in law enforcement, and the love his own parents shared led him to offer that feeling of family love to children in Person County.
Since then, he and Pamela have helped literally hundreds of children, and as the children grow up, many of them continue to rely on the couple for sage advice and resources. He sees a strong need in Person County for CLEAR, Critical Logistic Engagement & Agency Referral. With CLEAR, deputies responding to crisis and service calls will follow up with people, linking struggling citizens to the resources they need most to move past crisis concerns. It is only one of many innovative practices Keith will support and initiate when elected Sheriff. Because for him, law enforcement goes beyond busting bad guys. It's about seeing the bigger picture of the community.
Keith Daye's background and qualifications
Keith earned his Criminal Justice degree while in college on a baseball scholarship and played semi-professional baseball, so he brings that dedication to teamwork to his work in law enforcement. 
He brings the values of unity, true community engagement, and innovative solutions to Person County.  He started the Crime Stoppers program in Person County back in 2005 so people could report crimes anonymously, and the program's still going strong. In his 30-year career in law enforcement, he has been an officer and detective for the Roxboro Police Department. Keith has reinforced connections with other counties through his work as reserve deputy for the Warren County Sheriff's Office and as an investigator for Vance County Sheriff's Office, plus he has provided special policing through federal contracts. 
Keith mentored youth through Securing Resources for Consumers, and he enjoyed being part of Sportsman's Club, the Roxboro Sertoma Club, and the NAACP. He's a trustee of Union Grove Baptist Church. Most of all, Keith is a lifelong family man, raising two daughters with Pamela, serving his community through law enforcement, and helping hundreds of foster children find comfort in a safe and loving home. 
And that's what Keith Daye will bring as sheriff: community engagement, new avenues for law enforcement, and a long-term vision for a safer, better Person County for all.
And this is why our Person members fully endorse Keith Daye for Sheriff!
Countdown to the election!