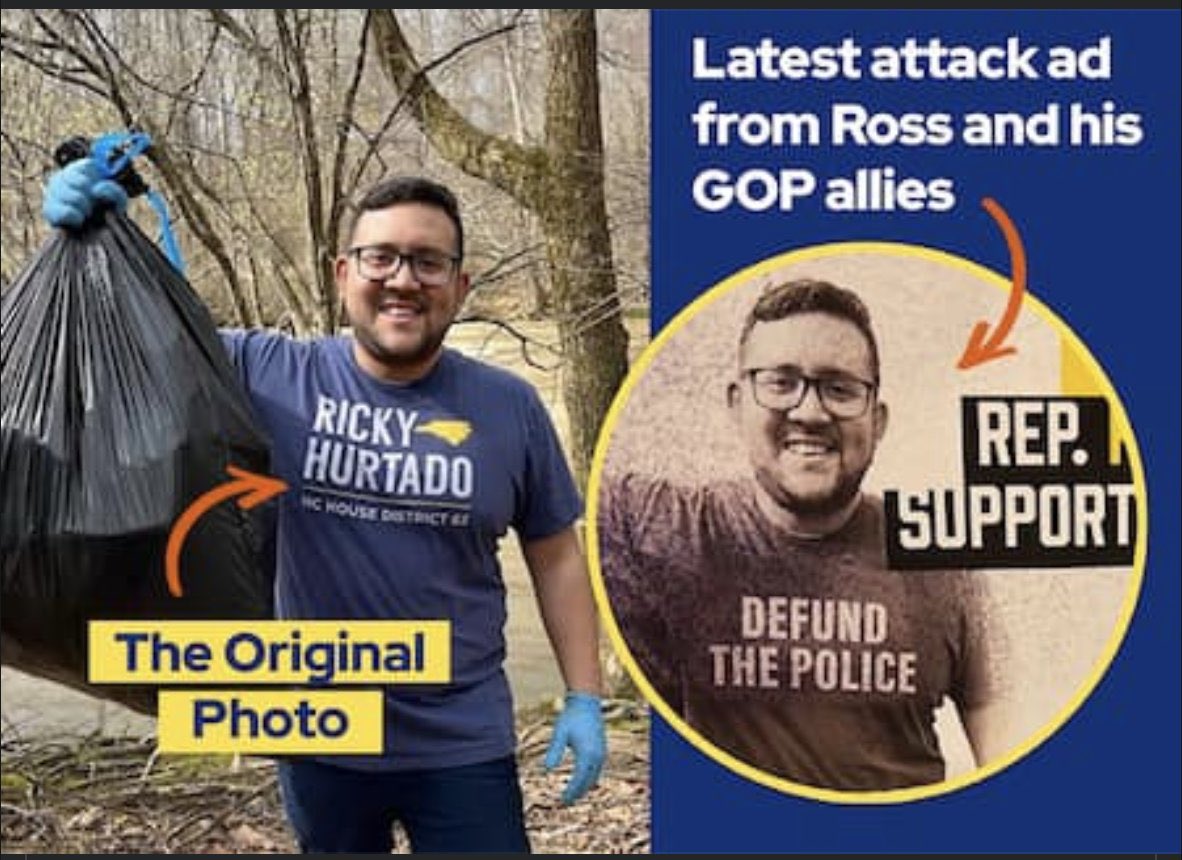 Recently, we've been shown copies of a mailer sent out by Ricky Hurtado's opponent that has been sent out all over Alamance County. In it, his opponent and his supporters digitally altered a shirt worn by Rep. Ricky Hurtado to read "defund the police."
We get that North Carolina is a swing state and we get that the House District 64 race is going to be a close one. But what we don't get is lying.
The real, unaltered picture says everything we know about Ricky. In March of this year, Ricky volunteered at the Haw River Clean-A-Thon– it's the sort of thing we always see Ricky doing on a Saturday morning. In fact, many of our members know Ricky from events like this. We often see him around Alamance County at small town street festivals eating BBQ and cheering on the local dance troop, volunteering at schools and community events, attending public meetings and talking to constituents. That's what Ricky is known for: Listening, engaging, being with us.
That's literally why we endorsed him.
Amanda, one of our members in Alamance County, explained Ricky Hurtado this way: "I reached out to Ricky by email to ask questions about the new district maps being drawn, and he called me immediately. He explained the process that was taking place and assured me he was doing everything in his power to make sure the maps would represent fairly. He has been a trusted consult of mine ever since, answering questions and listening to my concerns. I have never met a politician as close and committed to his constituents."
That's the kind of integrity that reflects our values in Alamance County. We know it reflects yours too. That's why we are asking you to help us keep Ricky in office and defeat the liar trying to take his place. 
Can you come out with us on a Saturday to canvass for Ricky Hurtado and the other candidates that our members in Alamance County have endorsed? 
Last election, Ricky Hurtado won his seat by just over 400 votes– and we think its going to be very close again. What that means is that we need to knock on every door and have every conversation we can to turn out the vote for Ricky and our slate. 
Countdown to the election!