This week, Johnston County parents met outside of the Board of Education building in Smithfield to celebrate books and librarians for national School Library Month. They also warned about the dangers of the kind of book banning that is happening across the state. They stressed the dire need for more public school funding. The event kicked off Schools Need Books (#SchoolsNeedBooks), a series of events happening across North Carolina this month.
The Board of Education was meeting to discuss a proposed $250 million bond to build more schools in the county, which is the third fastest growing in the state. The bond is significantly smaller than the called for $720 million recommended in a report by NC State University's Operations Research and Education Laboratory. The average age of existing schools in the county is 32 years-old, and libraries have been struggling to keep their collections up-to-date.
Parents speak out about education funding
"Tonight the school board will vote on a Resolution asking County Commissioners to place a $253.5 million referendum before voters this Fall," said dad Allen Hall. "That's about 35 percent of the $720 million our schools need."
Allen called on the board of education to recommend the bond – which they did – and for the commissioners to fully fund it, which has not yet happened.
Last year, Johnston County's commissioners held $7.9 million in education funding hostage until the board agreed to ban the teaching of Critical Race Theory (CRT), which was not actually being taught.
Honoring the education frontline workers when schools need books
Instead of focusing on imaginary problems, parents at the #SchoolsNeedBooks event outside the meeting celebrated public schools and the real funding problems facing them. The best way to keep kids first is to honor the people who actually work with them. In that spirit, the parents focused on one of the cornerstones of learning: a love for books. Schools need more books, the parents said, and not book banning.
Flanked by other parents and educators, parent Erika Hall read a proclamation for School Library Month. The statement asked the school board to "ensure our public school libraries have up to date materials, full staffing to meet the needs of every student, and that reading is protected as one of our greatest freedoms and essential to the functioning of our democracy."
During the event, parents voted for their School Library Hero. The nominations draw attention to librarians and school staff doing great work in schools. Nominees will receive gift cards with which to build their collections. Parents across the state can nominate their own school library heroes online.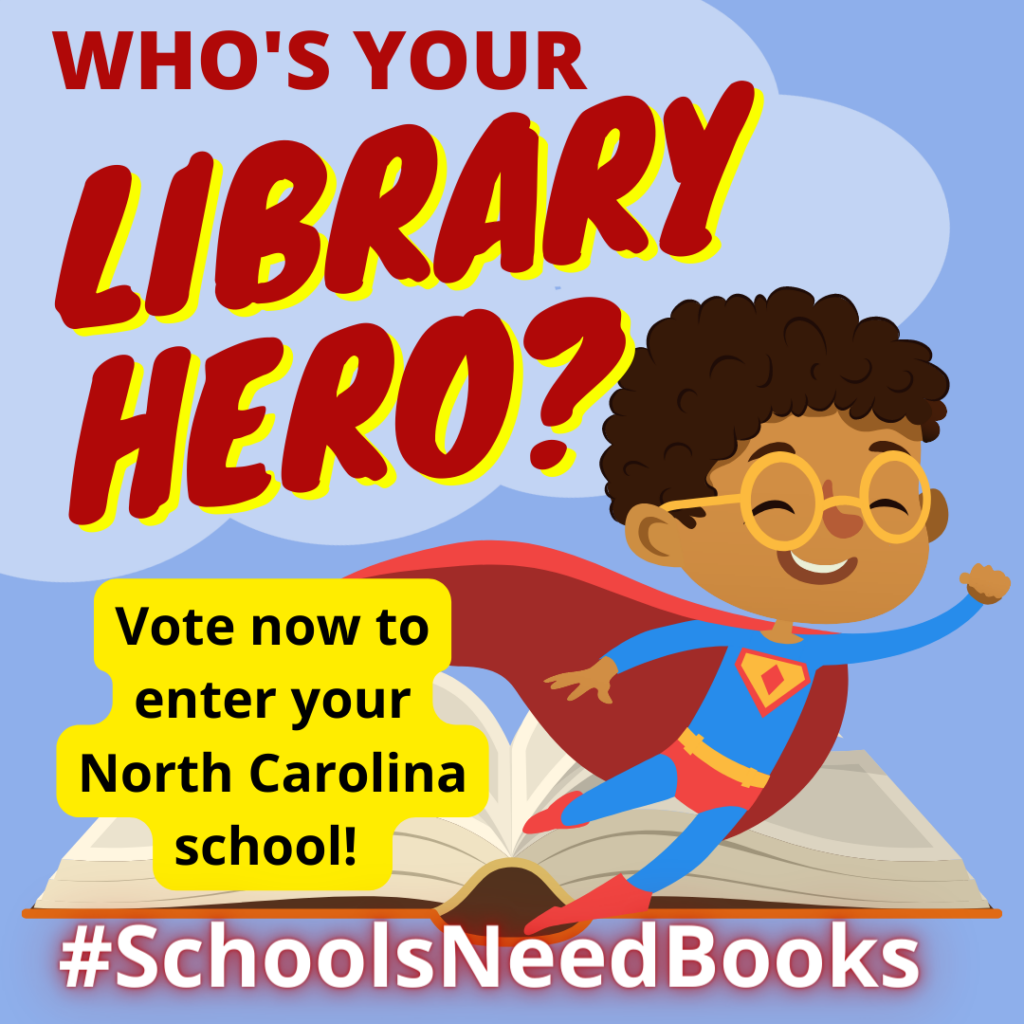 Theresa Ryan, a farmer and mother of three boys in Cleveland area schools, talked about the importance of Battle of the Books and the quality professional that has made it possible for her kids to participate for six years running. "Libraries are crucial for our students, and we can only do better if we have more funding." Ryan said her husband used to teach for Johnston County schools. "We've always had a really good reputation for our schools, and I'd really like for that to continue."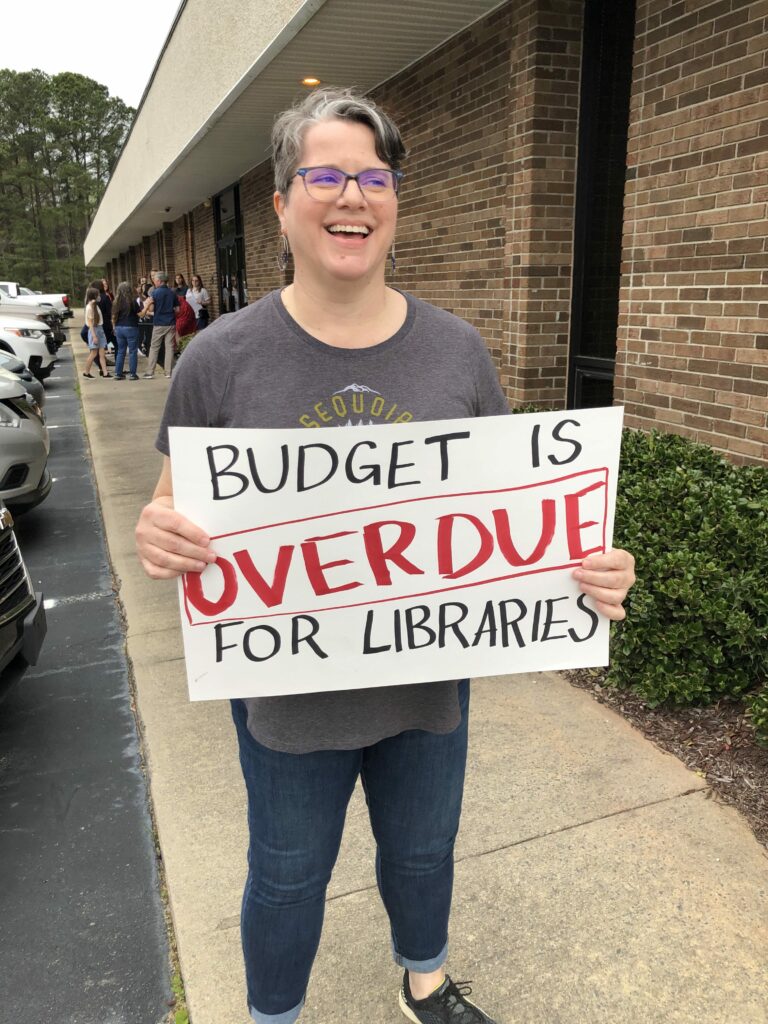 April Lee, a teacher at Four Oaks Middle School and president of the Johnston County Association of Educators, has three kids who have gone through county schools. She expressed concern about what's been happening. "I'm here because I love books and I love our librarians. They work tirelessly for our children." Libraries are important because they provide access for to get access to books that will broaden their education.
Kelly Kaspar, a mother of four and a nurse, brought her son to the event because she thinks books are an important gateway to democracy. "We would like to see our libraries get more funding. It's high time schools put money into our libraries. Books open the doors for so much–from basic understanding and fluency to new experiences beyond the usual four walls we're in." Her son said his favorite book is Ban This Book, which is about kids fighting back against censorship.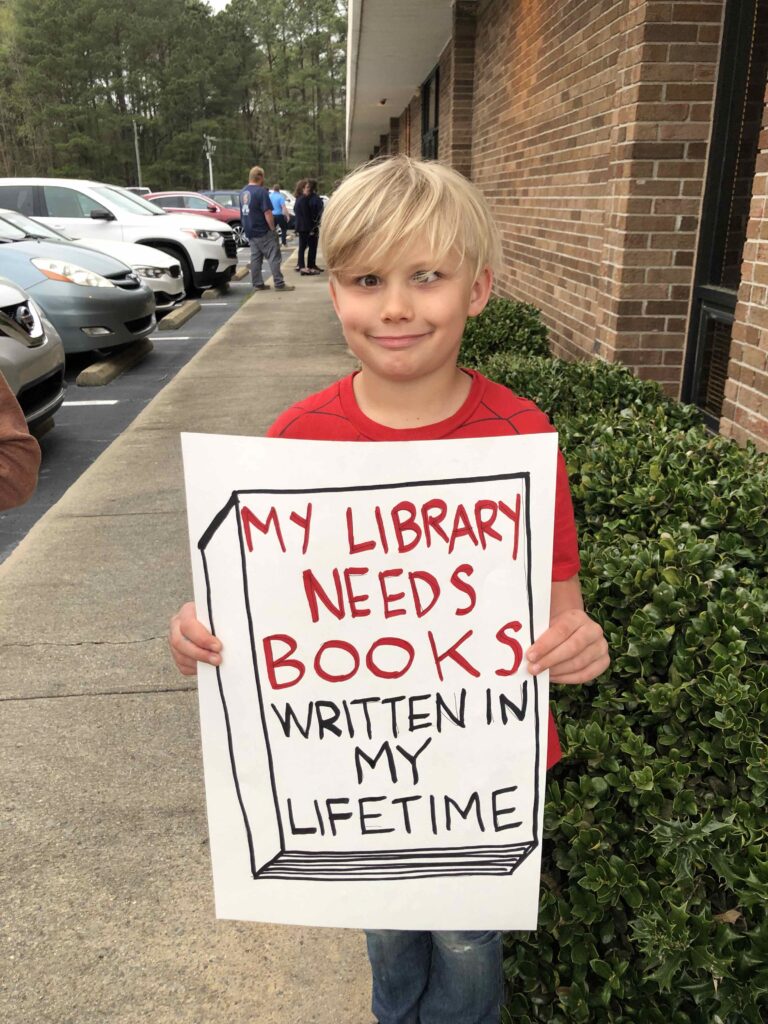 #SchoolsNeedBooks culminates with an online event on Thursday, April 28. School Library Heroes will be acknowledged and performers will celebrate the books that have made a difference in their lives. Sign up here to attend.
Want to join the fight for better schools in your county? Volunteer with Down Home or email Todd Warren ([email protected]), who is helping parents and teachers across the state to build power for our local schools!
Read Down Home member Rose Anna MacDonald's account of a great school board meeting in Caldwell County.