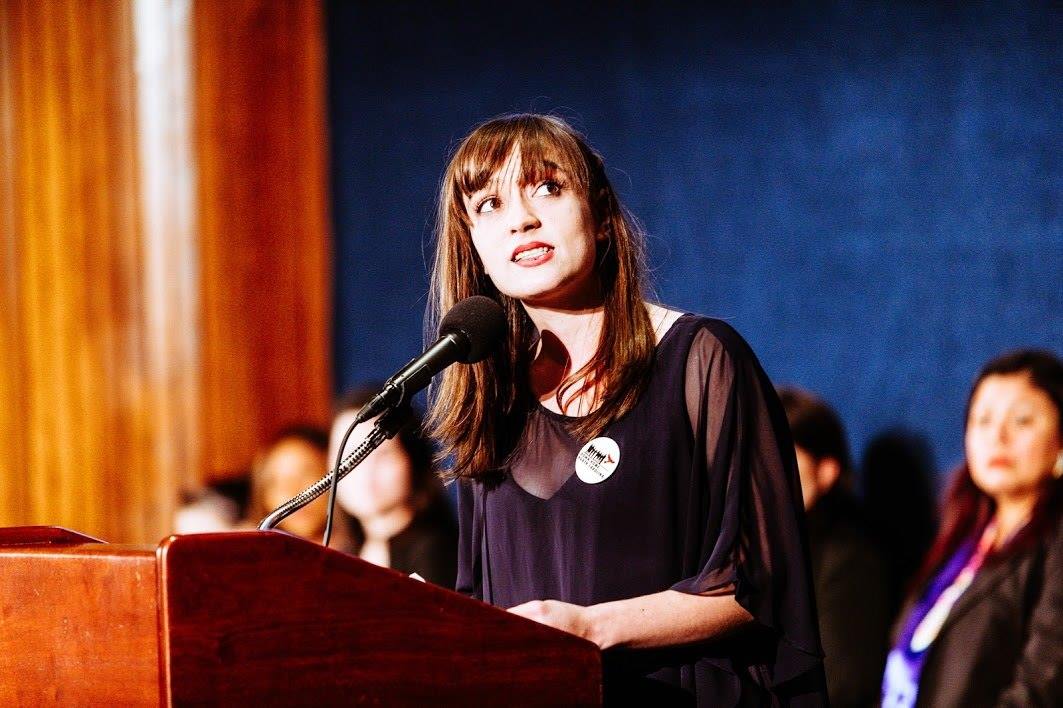 This is the text of a speech given by Down Home NC's Chelsea White.
Good evening y'all,
My name is Chelsea White and I am a proud, Appalachian woman. I live in the Smoky Mountains of Western North Carolina, where I grew up in a small town with a population a little over 2,000 folks. In my earliest years, I was raised by a single mother, who worked night and day to make sure I always had food on my plate, clothes on my back and a roof over my head. We leaned on other strong women — grandmothers, aunts, neighbors — to keep us afloat in the hardest of times… The sacrifices of my mother — of those women — never went unnoticed, and neither did my community's.
You see, like much of Appalachia, our community has been struggling through decades of poverty and isolation. Growing up, I remember watching my friend from the bus sneaking snacks home from school to feed her younger siblings. I remember my grandma talking about how she had to fight for every job she ever had — just to make less money, and eventually get fired for being pregnant. I remember seeing the plague of addiction overtake the people I knew, one by one as the years went by. I remember seeing domestic violence that combined with the plague of addiction to create a poison that pulled a gun on my cousin and took her life before she could even reach the age that I am now.
Which brings me to today, when rural women's lives are still on the line. Where I live, one in five women above the age of 18 live in poverty. More than half of the counties across the mountains of NC don't have a hospital at all, or they don't have any labor and delivery units — forcing women to go to dangerous lengths to bring life into this world. I ask you, in 2018, how can it be that a woman has to drive three hours just to give birth to her child? Where are women supposed to have babies? On dirt roads?
For a President who recently said he would "defend the right to life," I say he needs to come to my community and address the disparities in accessing rural healthcare that threatens women's lives everyday.
And despite all of that,
I'm here to tell you tonight that there's a new wave of defiance growing in the mountains, and that defiance is FEMALE, is young AND old, AND is every color of the rainbow. I organize with a community group called Down Home North Carolina and People's Action, (shout out to the Down Home women who do the hard work of grassroots organizing with me day in and day out, Lois, Joanne, Natasha, Keisha, Gina, Sam, Debbie).
We are growing out of silence to become louder than ever! We are fighting to build a new economy that values dignified work for everyone. We are fighting to save the lives of our loved ones who are struggling with opioid addiction. We are fighting to ensure safety and justice for the Black, Latina, Indigenous, Queer, and poor folk who live and love in the rural parts of North Carolina.
President Trump thinks that he can count on my community for his votes in 2020. The Republican Party thinks that my community will deliver their votes in 2018. Don't they know we see how they voted on healthcare? Don't they know we understand how they just screwed us over with the Tax Bill? There's an old saying where I grew up that goes, "Whistlin' women and crowin' hens, always come to no good ends." Well, with the organizing we are doing now, I would change it up a little to say, "These whistlin' women and crowin' hens" are stirring up trouble for good ends!"
We are fighting for a collective vision, not only of the world that might be, but of the world as it is, a world of everyday, courageous women who do not resist history, but who create it. As women organizing in the rural parts of our state, the women of Down Home are apart of the legacy of our ancestors' fire and bravery to preserve both mountain people and the land. When I was growing up, people were trying to run from the idea of being Appalachian. But, with Down Home, we are building a homegrown resistance where young women like me, are staying right where we live to fight for economic and political power.
Right now, North Carolina ranks 31st for the number of women in the state legislature. I live in a state where Women comprise only 38 of 170 seats, or 22 percent, in the General Assembly, and women of color hold only 12 of those seats. Black women have only been 2.3 percent of candidates for elected office since 2004. We have a long way to go to gain political representation in our government. However, changes are afoot. In North Carolina in 2014, women won a majority of the elections in which they ran. Which makes one point clear, when women do run for political office, we tend to win.
So we need you, ladies. To step up and run for Office or pick a friend and help her run for Office. Get out there, work hard, and win.
My name is Chelsea. I believe in the power of our union. And in 2018, I pledge to fight, organize, so that rural women have the power to determine our own lives — to take back our voice and use our vote to move mountains.