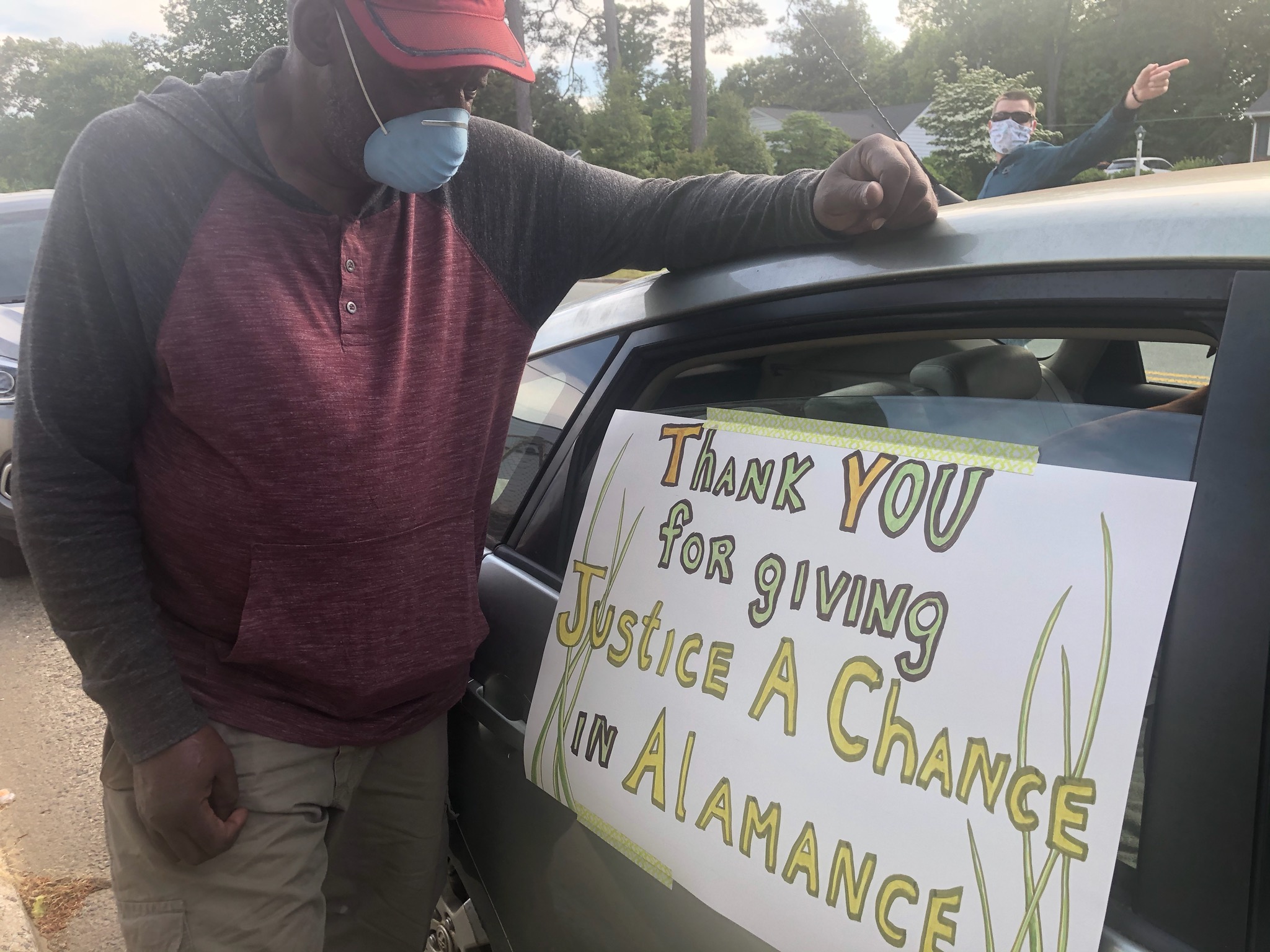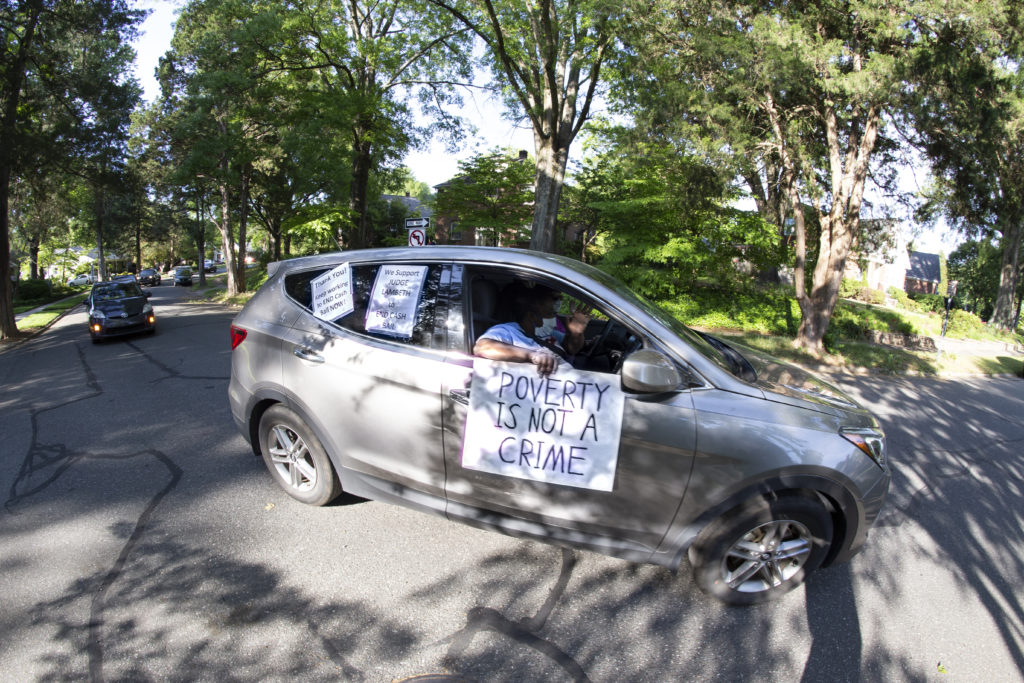 This evening, a caravan of cars paraded past Judge Lambeth's home in Burlington, North Carolina thanking him and other local officials for taking long-sought action to protect poor and working people in the Alamance County Detention Center.
Caravan participants are responding to a legal injunction filed last week which creates significant changes to the Alamance County bail structure, long critiqued for its role in unfairly criminalizing the poor.
"Judge Lambeth has absolutely taken the right first steps to help protect people presumed innocent in the county jail," says Lisa Rowden, a volunteer for Down Home's Court Watch program. "This new bail policy has the potential to be a game-changer for our community. With proper implementation, this policy will ensure that no one will be held in the Alamance County jail simply because they are too poor to pay their bond."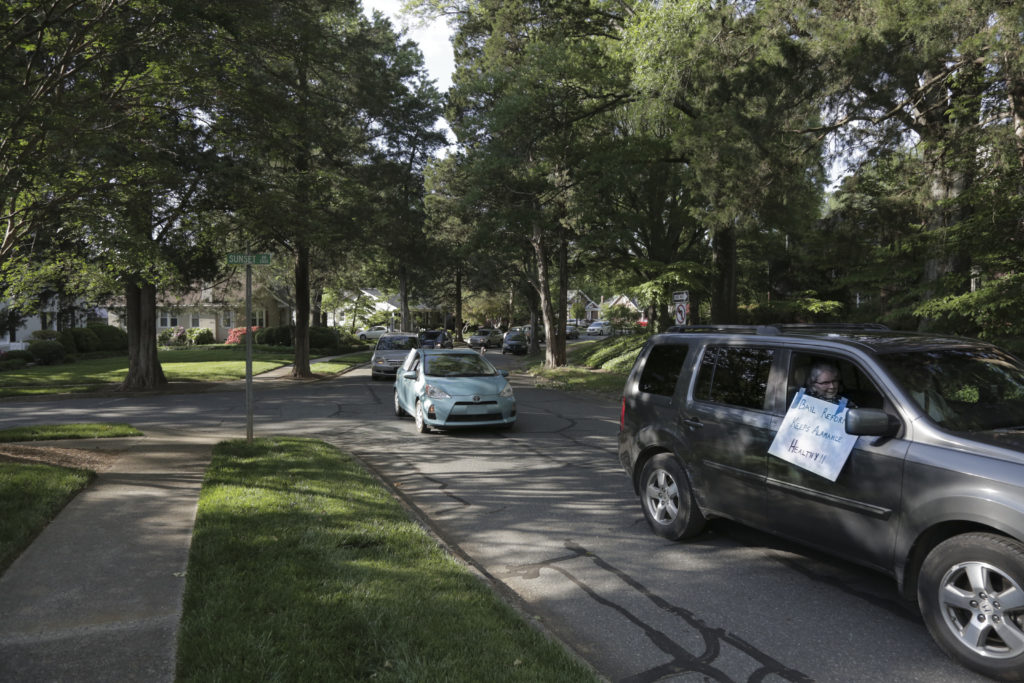 Down Home and other local organizations have long decried Alamance County's bail policy for unfairly punishing poor people. Under the previous policy, a person's freedom depends on their ability to afford bail, a clear violation of due process and equal protection. The county's old bail schedule, which has not been updated in 25 years, disadvantages poor and working people accused of crimes because they are not provided attorneys to represent them when bail is being set nor is their ability to pay considered.
"This change has been a long time coming," says Sugelema Lynch, Down Home's Alamance County organizer. "This change will have a positive impact for Alamance County residents, especially poor, black, and brown communities who have borne the weight of these unfair practices for so long. We are grateful that Judge Lambeth has moved to right this wrong."
Down Home has been circulating a petition in Alamance County asking that people accused of nonviolent crimes and unable to pay bail be released during the COVID-19 pandemic. Hundreds of local residents have signed that petition.
Under the terms of the agreement, people in the Alamance County Detention Center will now receive an individual determination of their ability to pay bail, an opportunity to be heard by a judge, and representation by an attorney at their first court appearance. The consent injunction creating these changes is part of an ongoing class-action lawsuit filed last November by the North Carolina ACLU and will take effect July 1st, 2020.
Community members are calling for strong adherence to the new bail policy and plan to closely watch its implementation by local judicial leaders.
"Our county has long been aware of these problems and our bail practices are the subject of a civil rights suit. For 25 years this has been a problem, and COVID-19 has escalated it to a crisis," says Rowden. "Our Court Watch team is eager to monitor the implementation of these important changes."
Want to get involved in Court Watching in Alamance County? Learn more here.