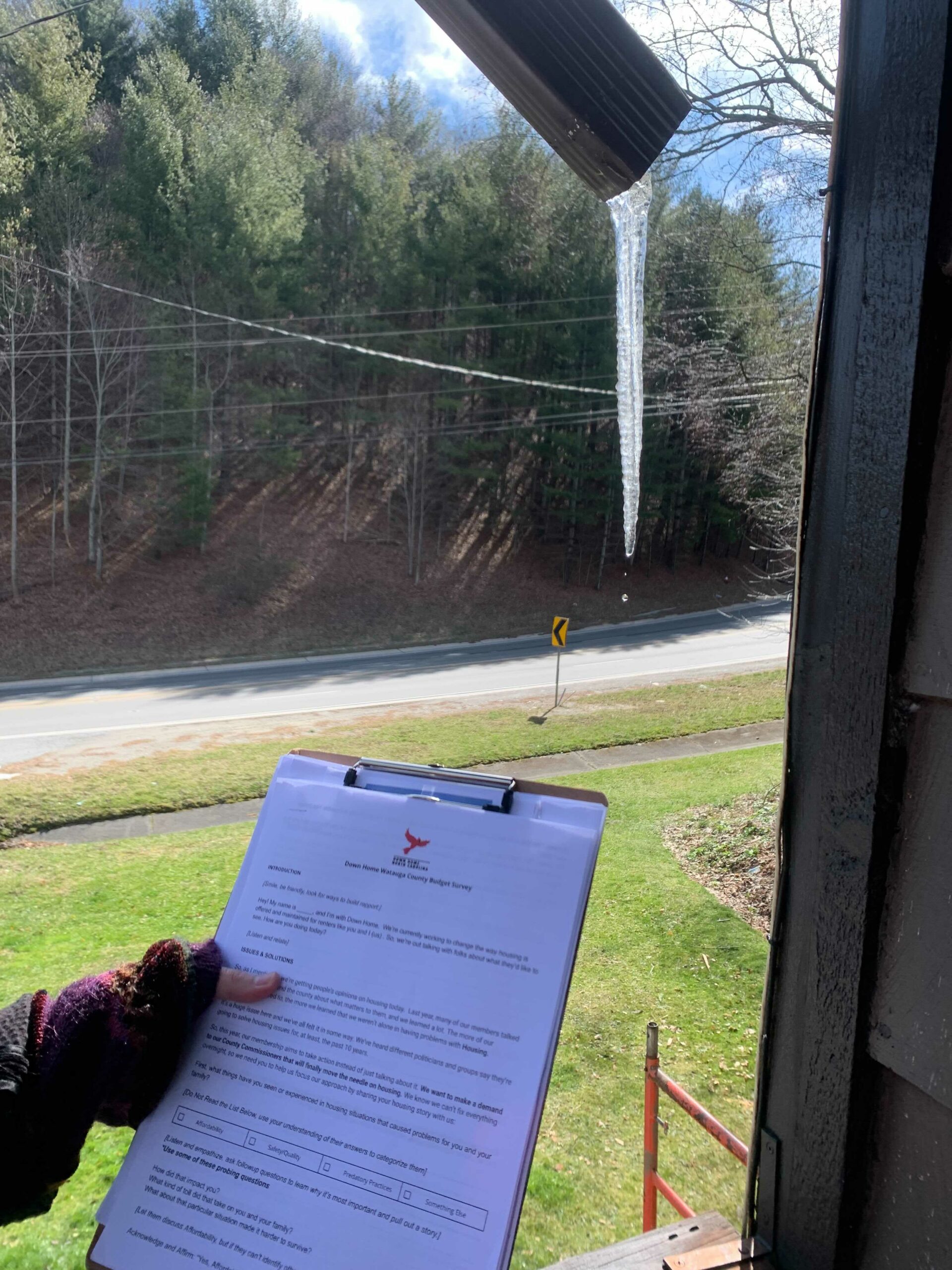 Photo: Down Home members in the High Country canvassed from door-to-door in Ashe and Watauga Counties. It gets mighty cold up here!
High Country members of Down Home went from door-to-door to ask folks about what the issues they care about and the problems they're facing.
We braved the cold, knocked a ton of doors, had some powerful conversations, and met many of our amazing neighbors.
We've collected a ton of data and heard some inspiring and frustrating stories.
Housing is a serious issue
In Ashe County, we met a young man preparing to move to Virginia with his fiancee. He said, "I am a contractor and build custom log homes. It's crazy that I'm building second and third homes for people, and we can't find anything affordable to buy or live in. I love Ashe County. I hope we're able to move back one day."
Also in Ashe, we met residents of a mobile home park that have seen two rent increases in the last 12 months. They also are being charged $50 for a sticker that allows them to take their trash to the waste station. The same sticker was given to their landlord at no cost.
In Watauga County, we met a teacher that summed up concerns we are hearing across many doors.
"There is a lack of options when looking for an apartment. My coworkers have to live in Mountain City or off of the mountain.
When we found an apartment, we weren't able to tour at all. We had to pay $50 to enter a pre-leasing lottery, which was given back after we signed a lease. Later, we switched apartments from another unit owned in another building by the same company and were only given four hours, at night, to move all of our stuff across town. We were given less than a week to accept a new lease before the unit would be rented out to someone else.
We weren't told the landlord had sprayed for cockroaches right before moving in. Called about mold several times. Response was quick, but the solution was just to paint over the mold, so it's come back several times."
What next?
It's not just our High Country chapters that are working with their neighbors to organize. Across the state, Down Home chapters are getting together to address serious issues facing working folks.
If you'd like to join us and get involved in local organizing in your community, check out our events near you.