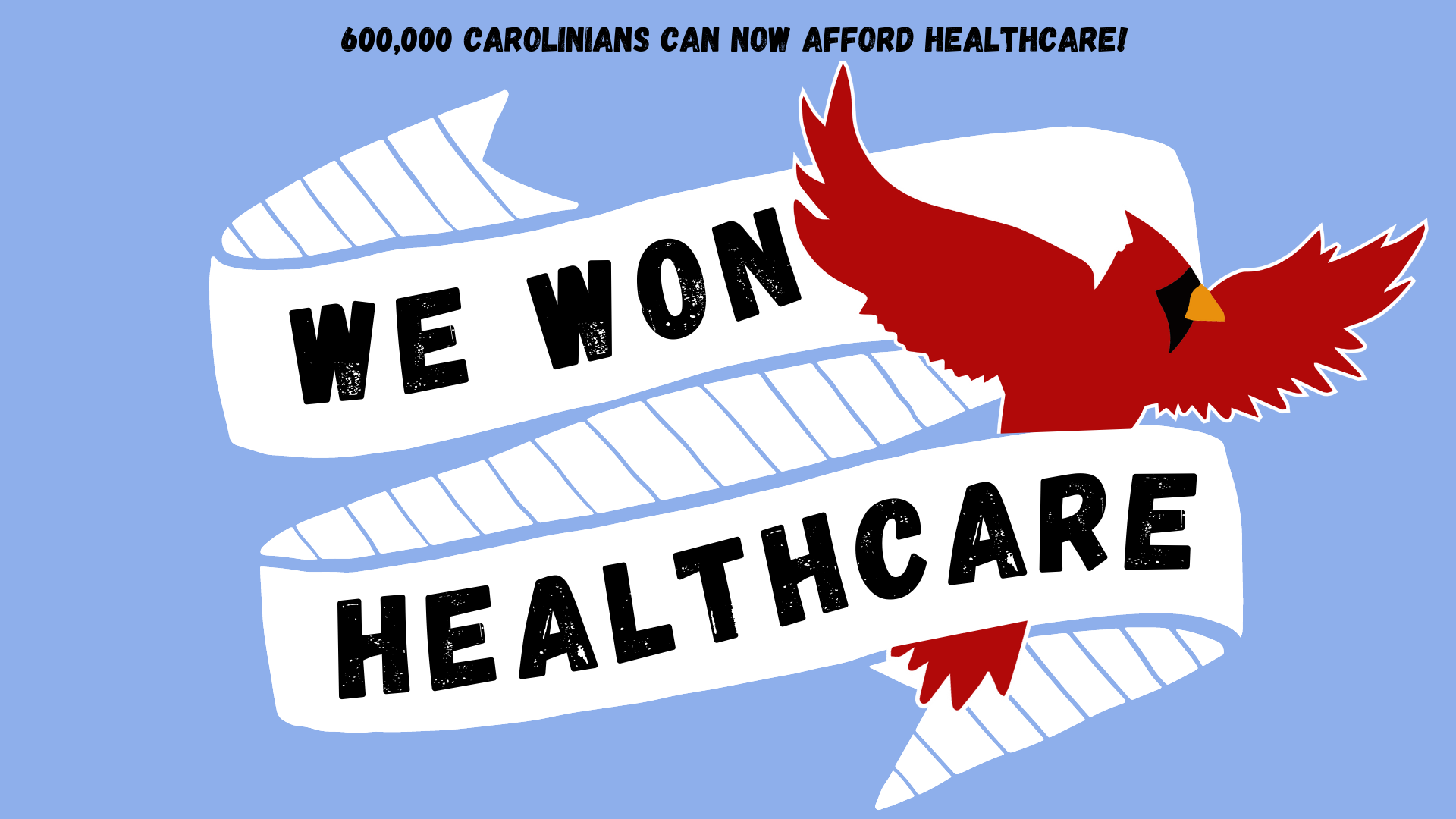 The North Carolina General Assembly just passed Medicaid Expansion. Hundreds of thousands of our neighbors, as well as many of our members, will now have healthcare. 
This is without a doubt a working class, people powered victory. It's been a long time coming, and it wouldn't have happened without us.
When Down Home knocked our very first doors back in 2017, rural North Carolinians spoke loud and clear: We need healthcare. Six-out-of-ten said they regularly worried about "losing access to healthcare, Medicaid or Medicare."  Six years later, we've repeated this listening project from the mountains to the coast, and healthcare has remained a top priority everywhere we go. We knew we had to build power so we can get what we need. 
Above: Down Home members and supporters have worked tirelessly for years for the passage of Medicaid Expansion in our state. 
So our members got to work, and kept the pressure on. We doggedly organized for Medicaid expansion, traveled to Raleigh, lobbied, held rallies, and deep canvassed to mobilize our communities. Most importantly, we built power. To remind legislators who they work for, we took the fight to the rural districts where politician's resistance to Medicaid expansion was greatest. Often, we won those battles, breaking the supermajority in 2018 and preventing its return in 2022.
The lesson? When you fight for what you need, and back it up by organizing for power, you can win. And securing healthcare for 600,000 Carolinians is about as big as it gets.
But we aren't done building power. If it had been up to working Carolinians, we would have had Medicaid expansion 12 years ago. Thousands of our neighbors and many of Down Home's members would still be alive today. The fact that this took so long exposes the way that the system has been rigged against us.
And now that we won, they are trying to rig it all again. The same lawmakers who blocked Medicaid expansion for so long have attached its passage to the state budget, using North Carolina's health and well being as a political bargaining chip to push other items of their agenda through. If the budget doesn't get passed because they pack it full of extremist or dangerous unrelated policies, then our neighbors again can't get healthcare. We've been more than clear: Don't play politics with our healthcare.
This win, and the fight ahead, makes one thing clear: we need to keep building our power. Until working people write our own budgets and pass our own laws, we'll still have some distance to go. But our fight and victory on Medicaid expansion reminds us: when we listen to working class people and build campaigns around our issues, we can win. When candidates run on real issue campaigns that draw contrast to right wing culture wars, we can win. When we organize- with a broad multiracial base of working people, with endurance and with a lot of elbow grease- we can win