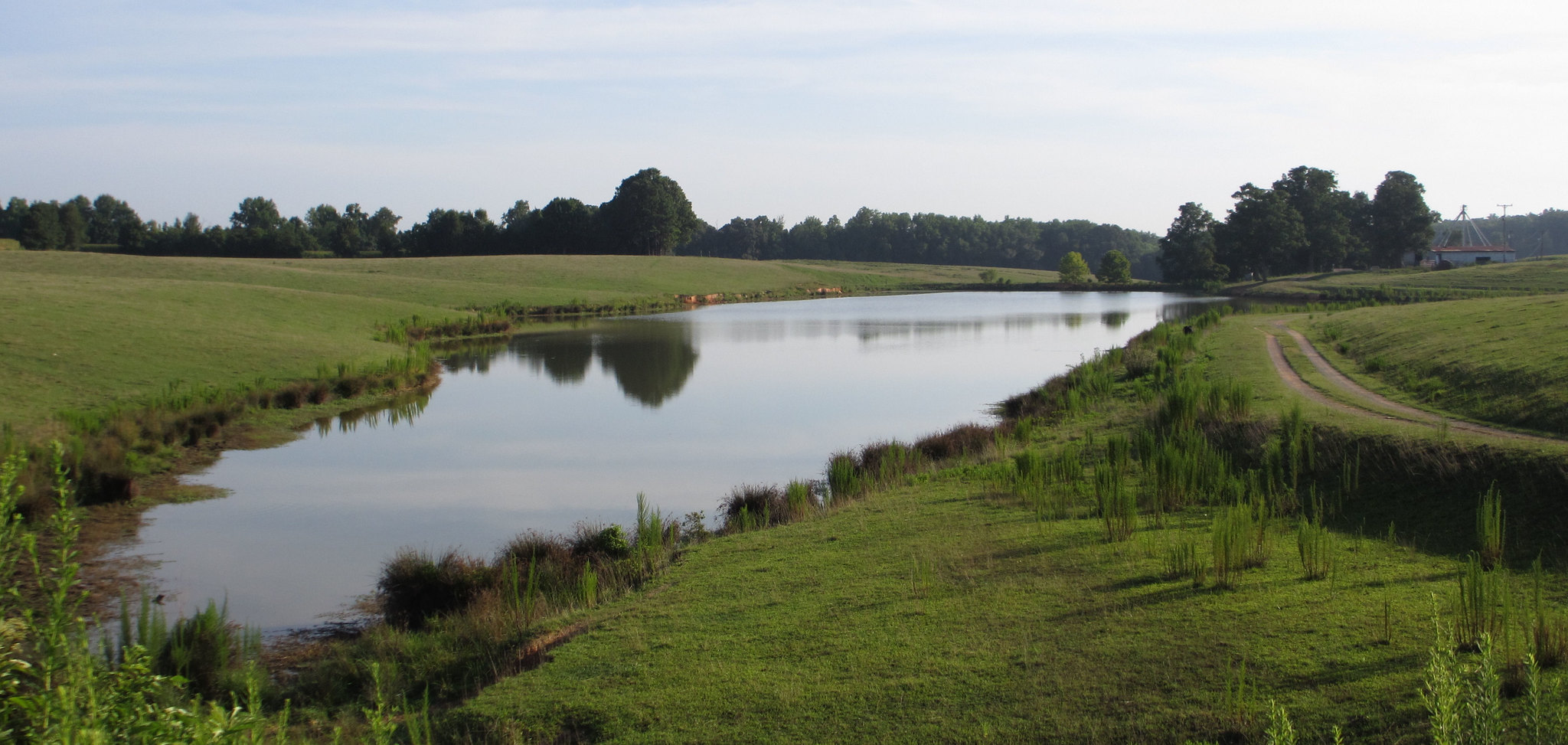 Photo: Farm scene on NC 73 in Cabarrus County, N.C., by Dave Overcash.
Cabarrus County is a place of surprises and change. Just northeast of Charlotte, it's full of rural country roads with farms and trailer parks that rapidly are turning into apartment complexes and condos. The charms of small downtown Concord is wrapped by big city highway traffic. Construction sites are everywhere. It's what people call "country-politan": a surprising mix of country and cosmopolitan. And for the election of 2022, Cabarrus County brought a huge surprise: the election of Diamond Staton-Williams killed the Republican dream of a supermajority in the North Carolina General Assembly.
Staton-Williams' election preserved Democratic Governor Roy Cooper's veto, which protects the women's reproductive rights, LGBTQ rights, and voting rights in the state. (All of these were claimed as targets by the North Carolina GOP if they were to win a supermajority.)
"People should know that we made history in Cabarrus County!" says our Field Organizer Taeja. "Our canvassers worked tirelessly to hit over 28,000 doors to help increase voter turnout." Rural grassroots organizing made all of the difference in this state-changing contest. In the end, Diamond Staton-Williams won by only 425 votes.
Cabarrus is the purplest of counties in a purple state
Like most NC counties, turnout in Cabarrus 2022 was down compared to 2018, with 49% of registered voters casting a ballot (74,713 out of 153,278). The county leans to the right. Our members' endorsed Democrat Cheri Beasley for U.S. Senate. She received only 42% of the Cabarrus vote.
This rightward tilt only underscores the achievement of Diamond Staton-Williams' victory. She's a Black woman who has worked as a nurse and was attacked in a vicious smear campaign by her opponent. Down Home fought hard to turn out voters and counterpunch the campaign against her. 
Down Home knocked 28,556 doors in Cabarrus County and had 7,726 conversations there.  "When we started in Cabarrus, it wasn't apparent that winning HD73 [Diamond's seat] was even achievable," says our Regional Organizing Manager CJ. 
"We literally had only one canvasser working for us at the time," he says. "However, our leadership kept stressing how this election was for the soul of the State of NC. Little by little our staff began to buy into the vision, and that led to our staff winning over the people in Cabarrus County."
The other huge win in Cabarrus was the school board. In a crowded field of 11 candidates for the three-person board, two of our members' endorsed candidates won: Pam Escobar and Sam Treadaway. Several of the losers were running on the right-wing extremist wave set in motion by Steve Bannon and Glenn Youngkin. Our victories successfully keep the focus on education instead of culture war battles like CRT, book banning, and teacher attacks.
For the three-person Board of Commissioners, our members endorsed a bipartisan duo: Republican Lynn Shue (who won reelection, with 27% of the vote) and Democrat and Down Home member Sabrina Berry (who lost, with 21% of the vote). 
Beloved Down Home member and bipartisan champion of the Cabarrus's working people Keshia Sandidge unfortunately lost her campaign for NC senate, 
Our members' two endorsed candidates for judgeships, Juanita Boger-Allen and Darren Jackson, were defeated, which might be part of a judicial wake-up call across the state.
Evolving a chapter in fast-changing county
Many of our successes in Cabarrus came from the ability of Down Home to evolve and change strategies when new challenges popped up. "It took time, enthusiasm and hard work for our team to pull it off," says Field Organizer Dre.
"There were a lot of changes to the game plan, but with the help of the working class people and the Down Home team, we pulled it off," says Dre. "Some results we were hoping turned out different but we at least made a stand to prevent the people from losing their power."
Our Regional Organizing Manager CJ agrees with this assessment. Our success is really rooted in a story about a community who bought into this opportunity to secure justice for its citizens, he says. "They wanted to ensure that reproductive rights were protected, public education was protected, and medicaid expansion was advanced. Not only for the people of Cabarrus County, but all North Carolinians."
CJ, who has experience in organizing across North Carolina and specializing in doing issue-oriented community work, says he saw the effect Down Home's support had in Cabarrus County.
"Black women don't usually get the support they deserve," CJ says. "So we have to provide that support." One of the biggest ways Down Home supports its candidates is through knocking doors, having conversations, and making phone calls.
Across the state, Down Home knocked on 120,993 doors. We had 35,165 conversations with neighbors and made 151,886 phone calls.
"Diamond would have lost without the field program we ran," says our Deputy Field Director Austin. "I think the numbers in our program and all the Cabarrus elections make that clear. By all accounts, Brian 'should' have won this. But we worked hard to recruit a team of people, the majority of whom had never done anything like this before, and train them to canvass and help them develop an understanding of their own interest in this fight and that their action actually could make a difference."
"We just came together and fought really f—ing hard, especially in those last couple weeks," says Austin. "We canvassed 6, 7, 8 hours per day, every day, canvassed in the rain, even managed to adapt to positive COVID tests and implement protocols that prevented spread while still letting us talk with voters. We overcame a lot, we fought really really hard, and because we came together and fought like that, basically a group of 20 or 30 people prevented the supermajority and a near-certain abortion ban for 10.5 million people. And that, to me, just shows the power and possibility when we organize."

Underlining our success, CJ says "I know the X factor was Down Home and Down Home knocking on doors in Cabarrus County. If I wasn't a believer in knocking on doors, I am a believer now."
READ NEXT: How Rural North Carolina Just Prevented a Supermajority and Saved the Governor's Veto