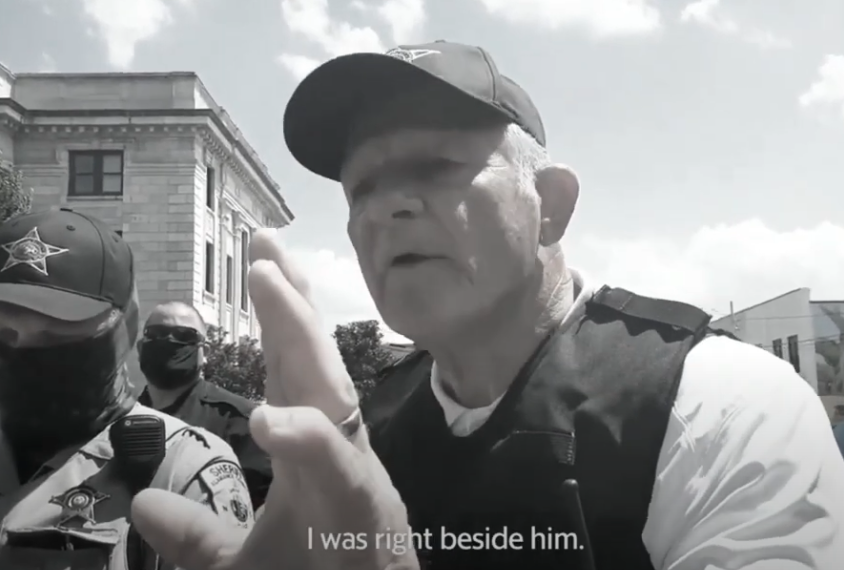 Today is election day. For the first time in forever, the voters of Alamance County actually have choice for a sheriff.
On one side is the upstart campaign of Kelly White, who is campaigning to bring transparency and better community relations to Alamance. His campaign is a direct response to the needs of working people and people of color who feel harassed and abused by the current sheriff. 
And the current sheriff, Terry Johnson, is the other side. 
He's the template for why sheriffs need to be replaced. A group called Mothers Against Terry Johnson have spoken out about it. And this new song, "Alamance KKKounty," by Bryant Pulliam, says it all.
We caught up with Bryant Pulliam to ask him why he made this song and video.
DOWN HOME: Can you tell us a little about who you are?
Bryant Pulliam: My name is Bryant Pulliam II.  Born and raised in Burlington, NC.  Graduate of Walter M. Williams High School class of 2007.  I Joined the US Army in 2008 where I was deployed to Iraq (Operation New Dawn, 2010-11) and Afghanistan (Operation Enduring Freedom, 2012-13).  I was Honorably Discharged 7/2/2018 after 10 years of service.
DH: Why did you make this song?
Bryant Pulliam: I was watching the Graham protests happen and it inspired me to use my voice and voice my concerns and opinions on the current climate in the county.  With all due respect to Sheriff Johnson, I believe he failed to do his job during that critical moment.  The protest was meant to be peaceful and instead of de-escalating the climate he allowed his deputies and subordinates to pepper spray the protesters and heighten the tension.
DH: Why are you releasing this song and video right now?
Bryant Pulliam: I was 13 years old when Sheriff Johnson was first elected.  I'm now 33, a Husband and Father of 4, and he is still Sheriff.  It's no secret Sheriff Johnson has been linked to forms of oppression, racism and inequality here in the Alamance County over the time.  From the Department of Justice lawsuit in 2012 to the most recently settled Pepper Spray lawsuit back in June.  The Sheriff has made National news but for all the wrong reasons.  So, I took it upon myself to uniquely bring the people of up to speed and shed awareness ahead of the upcoming election with my song "Alamance KKKounty."  It's time for an infusion of change.  It's very much wanted and needed and I hope my song can help be the catalyst for that.
Our Alamance members have endorsed Kelly White for Sheriff of Alamance County.
Go vote for change and say ADIOS, TERRY!