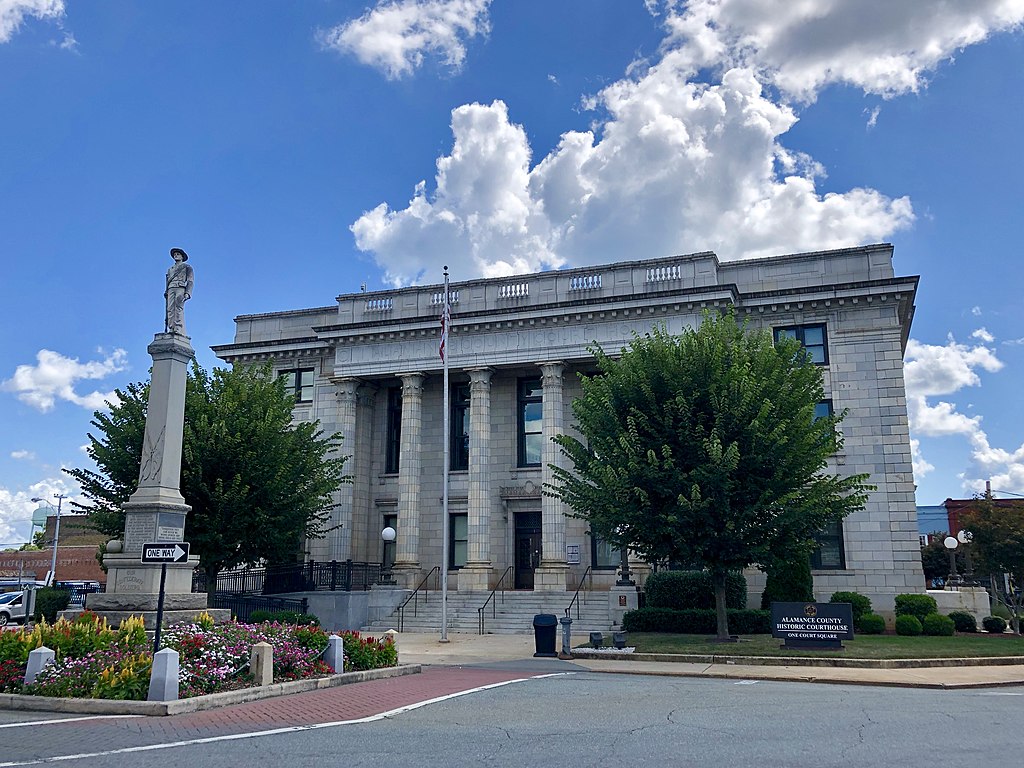 Racism and racial disparity remains at the center of the judicial system in Alamance County.

This afternoon, Judge Don Bridges dismissed a lawsuit brought by the state and county NAACP, Down Home North Carolina, other community groups, business owners, clergy members, and citizens of Graham and Alamance County. The suit named the Confederate monument in front of the Alamance County Courthouse – and at the center of Graham's business and civic life – as a danger to public safety and that the protection of the monument is a gross waste of taxpayer money. 
Keeping the monument in such a prominent place violates the state constitution by denying Alamance County's Black residents equal protection under the law, wastes public funds, and blatantly promotes racism. Everyone knows that. 
The monument acts as the symbol it was always meant to be and, in recent years, has brought gatherings of neo-Confederates and racist bad actors to our county, causing huge embarrassment to the county, not to mention fear and danger to local residents. Sheriff Terry Johnson has humiliated the county through his cavalier defense of the statue and attacks on local residents who oppose it, and the County Commission has failed to act in the interest of local residents by hand wringing and tying their own wrists.
Today, the court ruled that North Carolina's "monument protection act" protects the statue in its current location – even if to leave it there pits Raleigh's senseless law against the will of Alamance residents. 
This ruling is a disappointment but also a reminder: If we want to bring change to our communities, we have to change who makes the decisions.

There are many ways to build power as poor and working people. One is community organizing, one is through protest, and yet another is through elections. Right now, we are 55 days out from an election where we have the chance to take one step of many towards changing the power structure of Alamance County.
Down Home members in Alamance County have endorsed candidates for local elections who we know will support poor and working people across race in our community.

Put early voting into your calendar now. Early voting starts October 20th. Find your local early voting location here:

https://vt.ncsbe.gov/ossite/
The county spent $30,000 constructing a fence around that monument last year instead of protecting the will of the people. That sort of shortsighted, backwards action by the powers that be is and will soon be a thing of the past. Alamance County already looks like us– it's working class and poor, it's Black, white and brown.
We can throw Terry Johnson out of power and elect Kelly White who would be the first Black sheriff to serve Alamance County. We can move people like Anthony Peirce onto the County Commission who would prioritize our schools and communities in our local budget. We can elect real representatives like Ricky Hurtado and Sean Ewing to represent us in Raleigh– candidates who would challenge racist laws that keep us in the past.
Our next step is to make sure people like us win. 
Note: The image below shows candidate endorse by our member in Alamance County. Not pictured: The same night this decision came down, our members additionally endorsed Ron Osborn for District 64.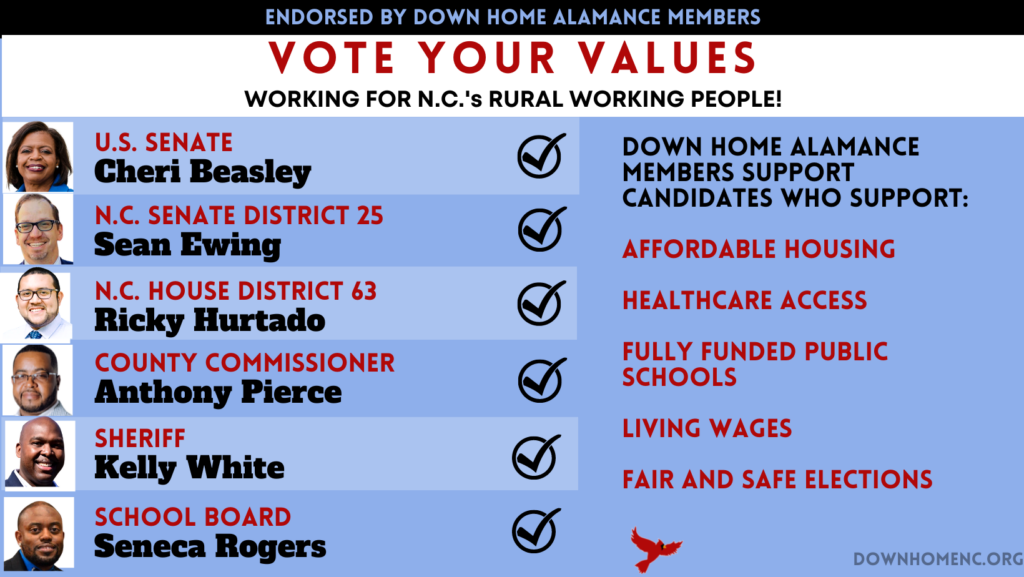 Days until the midterm elections: