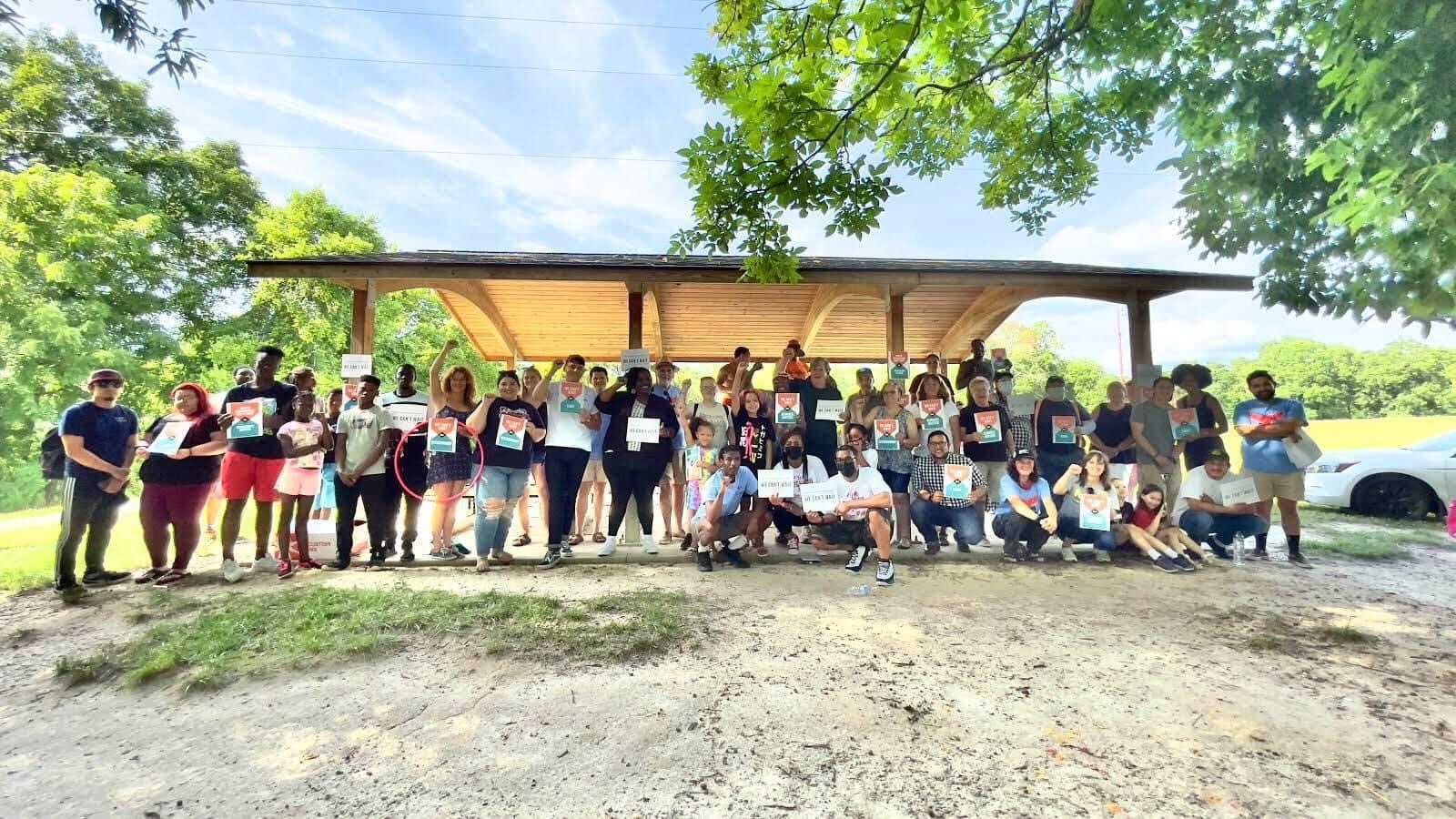 It was a hell of a long haul, but the news came this weekend that the Senate finally passed a budget reconciliation bill that works for poor and working people.
How did we get here? The answer is plain: grassroots organizing. 
Corporate lobbyists lost, and we won. Let that sink in. 
Hundreds of thousands of people of different races and backgrounds united to stand up to wealthy corporations and fight for what we need. The Inflation Reduction Act passed on Sunday with a 51-50 vote with Vice President Harris casting the tie-breaking vote, the bill stayed largely intact despite Republicans offering a slew of amendments—including many anti-immigrant amendments—trying to derail the bill. The House will come back in session on Friday to pass the bill and then President Biden can sign it into law. 
The Inflation Reduction Act includes provisions to allow Medicare to negotiate prescription drug prices, to extend ACA healthcare subsidies, and will make an historic $369 billion investment in transitioning to renewable energy. All this is paid for by a 15% minimum tax on corporations and by closing other tax loopholes that the wealthy and corporations use to avoid paying their fair share. 
This is big. It's what organizations like People's Action and Down Home, along with hundreds of thousands of working class community activists across North Carolina and the nation, have been fighting for over a year and a half. 
Of course, this bill is also nowhere near perfect—it's full of scale backs and compromises away from the full vision that climate activists, healthcare advocates, care workers, working parents, and others articulated, fought for, and need. But we stayed the course. Once thought long dead or an impossible fight, the biggest action against corporations and towards climate justice is now on its way to becoming law. 
Make no mistake, this is absolutely another step forward towards the people-centered economy and government we are fighting for.
While the relief in this bill will be felt by working class communities everywhere, what feels most important about this win is that we, regular people, stood up and won against big corporations. At this time last year, the mega-rich and huge corporations were spending millions trying to derail this people-first agenda, but hundreds of Down Home supporters and people just like us were sending emails, letters, and making phone calls plus turning out to actions across the state demanding our representatives represent us—not them. 
All of this is a reminder that we don't get what we need without a fight—but also that when we fight, we can win. 
This is at the heart of Down Home and what we must do: we have to make our representatives work for us. We are under no illusion that this happens organically or automatically. We know we must work actively to hold them accountable. That is why Down Home's Co-Governance Working Groups are at the heart of our chapters. The members who work in Co-Governance not only interview working class candidates for potential endorsements, but also keep them accountable to our needs once they are elected. 
If you want to be involved in Down Home's endorsement process, you can join your local co-governance group. You should also make sure to mark your calendars for your local August chapter meeting, as it's at these meetings that members will be voting on their endorsements. Get involved here. 
We are absolutely celebrating this historic win in Washington, but we are also mindful that it comes only three months before the next election. We have an opportunity in November to elect working class candidates up and down the ballot who can continue this fight against corporations and for working people. We know that what just passed in Congress boiled down to very close math. The tie breaking vote was cast by the vice-president. We need to turn out in November to create better odds and better math from Washington to Raleigh to our hometowns so that next time we don't have to fight so damn hard.