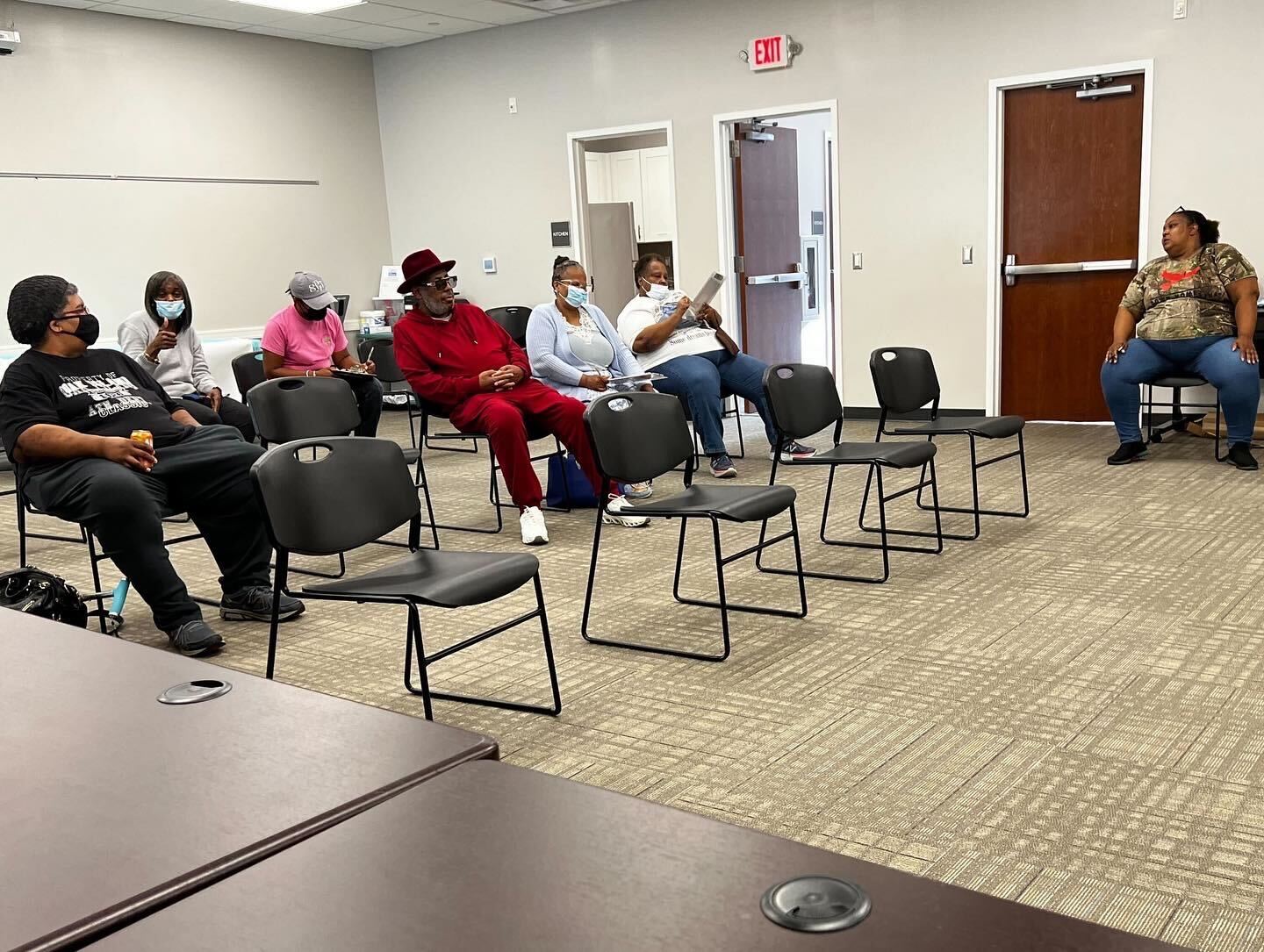 Last week, Down Home held a listening event at the Gunn Memorial Library in Caswell County, NC.
In one of the community rooms, our Caswell Field Organizer, April, was setting up for the event when folks started to flow in. We quickly found that the folks who came out ready to talk about their community and how they could organize to make it a better place to live for everyone. Here's what we heard.
Broadband isn't accessible by everyone in the county.
The first thing that came up in the group discussion was broadband. Across the county, the service is not consistent– or even equitably accessible by all residents. "[Broadband access is] not even socioeconomically inclined– it's just about where you live in the county," said one woman. Caswell County is right on the Virginia border, so some folks in the county have resorted to purchasing Virginia internet services.
"Down my road– about 10 miles long, less than half of it has internet. They started building it, and then they stopped," one person said.
During a pandemic, when many parts of life pivoted to digital formats, this was really hard on students and families with children. "When the schools were virtual," one woman recounted, "A lot of the kids didn't have broadband. Folks took it to the county manager several times, but nothing came of it."
"They did give out a few hotspots, but they weren't sure how long the hotspots would last. With multiple kids in a household, they were getting kicked off the internet and missing classes."
Their local and state officials aren't as accountable to the people as they should be.
There were a few people in the building that said they didn't pay much attention to local electoral races because they simply did not trust the folks representing them. "Soon as our politicians get in office, they forget who they work for. They still do what they want to do." 
Another person sharply agreed. "A lot of politicians say what they need to say to get into office, and then completely switch up when they get there."
Some folks felt the size and location of Caswell County kept them from being engaged in politics; many agreed that they felt Caswell County was looked over or ignored by the state. "We're a small portion of the state," said one man. "They might not look at us first– or last, for that matter."
Everyone is feeling the crunch from inflation— especially at the pump.
Gas prices, energy prices, and other necessities are an incredible strain on families across the state right now. Some folks in Caswell County even cross the border to Virginia just to avoid North Carolina's gas tax and save a bit at the pump.
Despite the frustrations, getting involved in local politics is a critical step in Caswell County.
"When it comes to local politics," one woman said, "I always ask folks– do your representatives talk to you? Do you know anything about them?" Others nodded in agreement. "When they say things publicly, you can hold them accountable." 
The group agreed that being involved in their local politics was important, but finding information was hard. "I would love to go to the local government meetings," one woman said. "I never know where or when they are. It's like a secret."
April, our Caswell County Field Organizer, said it best: "If we get together and make one loud sound, somebody's gotta hear it."
The decline of small businesses has been hard on the community.
"There's so many things that we've lost when there should have been a gain."
Folks have seen local grocers and businesses disappear in the wake of the pandemic. In their place, large corporations are coming into the community without pouring back into the people as small businesses did. 
"These companies in this city are supposed to give back and put into the community around them. But when you don't hold them accountable, they can keep making money off of us."
Down Home is hosting listening sessions all across rural NC as a part of our 10,000 Conversations Project. Our organization will be talking to 10,000 rural North Carolinians this year to hear what issues matter most to them, who they think is responsible, and what we can do to create change. Once we hear from all y'all, we will be creating a working class mandate to steer our endorsements and our work across the state. 
Want to make your voice heard, too? Join our 10,000 Conversations Project by taking our online survey here.
Want to get involved in Caswell County? Awesome! Reach out to April at [email protected]!