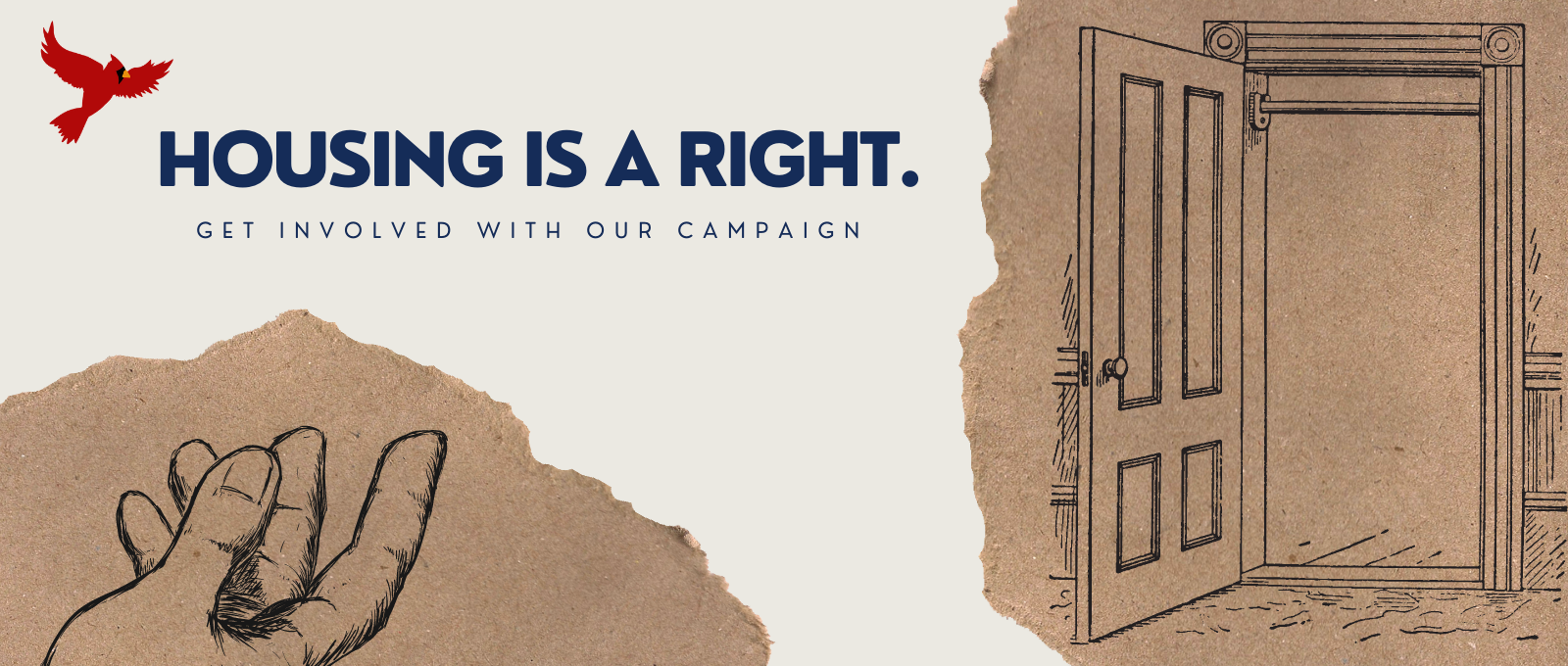 It was a hard decision, but Darryl (name changed) sent his wife and newborn son to live in a shelter. "I knew I was going to miss the hell out of them," he said. 
But hard times call for hard decisions. The small family had been living in a motel room for several months and their life boiled down to math. The room was $52 a night or $220 a week. Darryl's income installing fences was enough to cover the nightly cost but he could never get ahead far enough to pay the much-better weekly price. "Being poor is expensive," he often explains. 
Darryl's choice to separate from his family was so that he could live in a tent and save up money to rent an apartment. By his calculations, at $8 an hour, he could work his full-time job at the fence company for four months and save up enough money to get the deposit and first months rent for a one-bedroom apartment and be reunited with his family. In reality, it took twelve. 
Our State's Affordable Housing Crisis
Across our state, families like Darryl's are struggling to keep a roof over their heads. With wages stagnant and housing prices skyrocketing,  a minimum wage worker must work 94 hours a week to afford a two-bedroom rental home in North Carolina (NC Justice Center). Even before the economic fallout associated with the pandemic, 45% of renters and 19% of homeowners are considered housing cost-burdened (that is, spending 30% or more of their income on housing costs).

The pandemic has only exacerbated this serious situation. "State and local governments have offered a patchwork of confusing and insufficient measures" to help people impacted by the economic crisis, explained Melba Newsome in NC Health News last fall. While both federal and state eviction moratoriums were put into place, and additionally North Carolina also made available $117 million for the HOPE program, an assistance fund for residents struggling to pay utility bills and rent, many households fell through the cracks and the HOPE program was flooded with applications for help. With the HOPE funds already used up and with the eviction moratoriums set to expire at the end of March, our communities are staring down a real crisis.
Housing in Rural North Carolina
Our state's rural communities are not immune to this crisis but instead right in the thick of it. There was a time when living in the country was affordable, but those times seem to be over. Rural and small-town gentrification has taken hold across North Carolina, forcing local folks out of the places they call home. 
In rural counties, good-paying jobs have left leaving families in a lurch to afford safe and healthy housing. In the former textile-based county of Alamance County, 48% of households who rent are housing burdened (or 10,362 households). Similarly in Cabarrus County, where old mill housing is being renovated to meet the growing demand for Charlotte bedroom communities, a family would need to make $38,680/year to afford the average rental price of $967/month — but in reality, the average renter in the county can only afford $667/month based off what they make. 
Not only is rent dramatically too high for low and middle-wage earners, but other barriers stand in the way. Many rental companies demand that renters produce the first and last months rent or other exorbitant deposit fees at the time of signing– This is what prevented Darryl's family from getting into housing for so long. 
Other landlords discriminate against potential renters due to their arrest records, in some cases denying housing to people who have been arrested but not ever convicted of any crime. Others still use previous eviction filings (again, regardless of the outcome) against families seeking housing. 
These barriers combined with low wages and high housing costs have only added to the serious housing crisis in North Carolina. We believe that, given the critical nature of crisis, that any additional barriers to poor and working-class folks from obtaining safe housing must be eliminated. The good news is that this is something that is within reach of local government. 
Our local elected officials can change pass ordinances that protect renters from discrimination as they seek housing. 
Our members at both Down Home Alamance and Down Home Cabarrus are organizing to address barriers to housing for low-income families in their communities. Currently, we are gathering information about these issues and are in the process of hearing from our neighbors. Can you help?