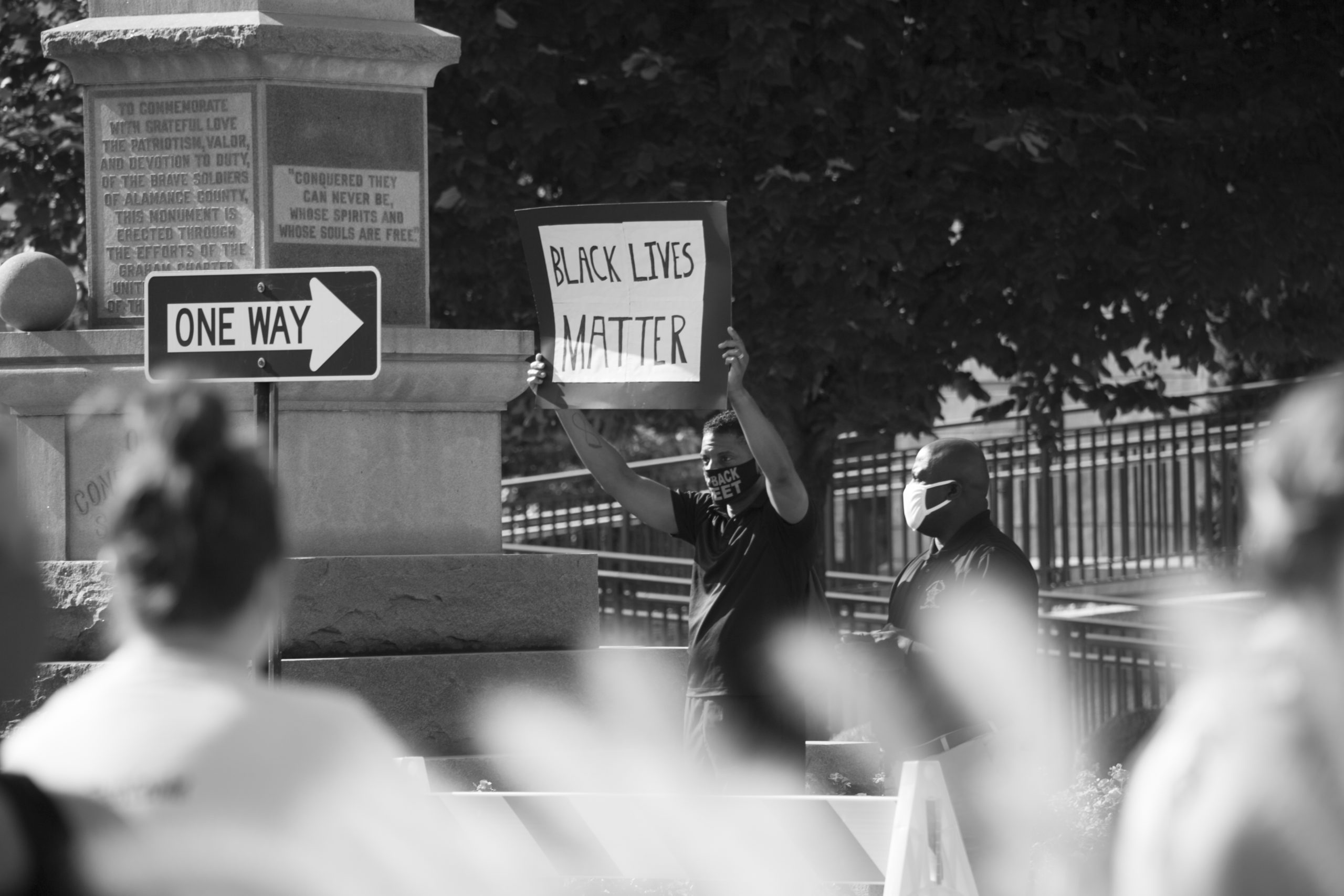 A statement from the Members of Down Home Alamance:
We love Alamance County. We love the forests here, the fields, the farms, the towns, the businesses, the schools, and the people. We especially love the people.
It is because of the people who live here that Down Home North Carolina's Alamance Chapter firmly and without hesitation believes that the Confederate monument in downtown Graham must be immediately removed.
Down Home is not alone in our call for the statue's removal from in front of the courthouse. We join in community with business leaders, school leaders, faith leaders, and other organizations that are vital to the fabric of Alamance County, such as Alamance Agents for Change, Alamance NAACP, Siembra NC, and the Alamance Alliance for Justice in this demand. Most importantly, we are echoing the righteous and articulate call of thousands and thousands of Alamance residents who have been speaking out and showing up across the small towns and city streets of our county demanding change.
It's time.
The Confederate monument in Graham stands in the way of Alamance County's future. We do not discredit or deny any individual's attachment to or interpretation of the monument, but rather our concern is about power. Having this symbol centered in our county's seat both physically and metaphorically tells far too many of us that the County Courthouse and access to government is not meant for us. The fact that for over 100 years, this statue has been seen as a form of intimidation and as a way to block access to power to a significant portion of our community should cause alarm and incite dissent from anyone committed to open democracy.
Both the statue and the lengths to which Sheriff Johnson and other elected officials are going through to protect it- including denying resident's First Amendment rights–have earned Alamance County unwanted national attention. While we believe that there are many reasons the nation should pay attention to our county– this is not one of them.
Our county is diverse and that diversity is not only an obvious strength, it is also our history. Poor folks, working-class folks, and Black and Brown folks have always been an integral part of Alamance. Opposition to the monument is not new. Statues lionizing the Confederate cause were opposed when they were put into place and have been opposed ever since. Today, the opposition to the monuments remains the same as it always has been: They are divisive, racist symbols constructed on a flimsy interpretation of history and are designed to keep people out of power. Overwhelmingly, these statues were installed under the pretense of memorializing the dead but opportunely erected during eras of heightened anti-Black violence and backlash such as post-Reconstruction years, throughout the Jim Crow era, and especially during the Klan's efforts to bolster the "lost cause" myth.
The timing of our unified call for the statue's removal, however, is new: In 2020, Alamance County has a chance to demonstrate to the world that we are finally ready to fairly include ALL of the people who live here in our decision making, in our seats of power, and in our community life. Removing this statue glorifying a racist and treasonous period of our history shows that Alamance is ready to move into an inclusive future that values all the citizens of this county.
Down Home is committed to building a path forward. We believe that, together, poor and working people of Alamance County can oppose and defeat the dog-whistle politics that are designed to divide us. We can defeat racist policies such as the 287(g) agreements that were created with the idea that some of us are not meant to be here. And in November, we can be a part of bringing in new leadership, including Black and Brown people, who can make decisions that represent all of us, not just a few. And we believe that to do this work– both in the streets and at the ballot box– we must also remove the vestiges of our past that are clearly in our way.
Come on in, ya'll. We've got work to do.
Love Alamance County and want to be a part of the movement forward? Get involved with Down Home Alamance by

contacting us here

or signing up for our newsletter below.